TBS Logistics: Creating Sustainable Values from green logistics
English - Ngày đăng : 15:28, 07/03/2023
"Green logistics" has been considered a target that creates sustainable values to balance economic efficiency and environment protection in TBS's operating chain from manufacturing stage to trade and services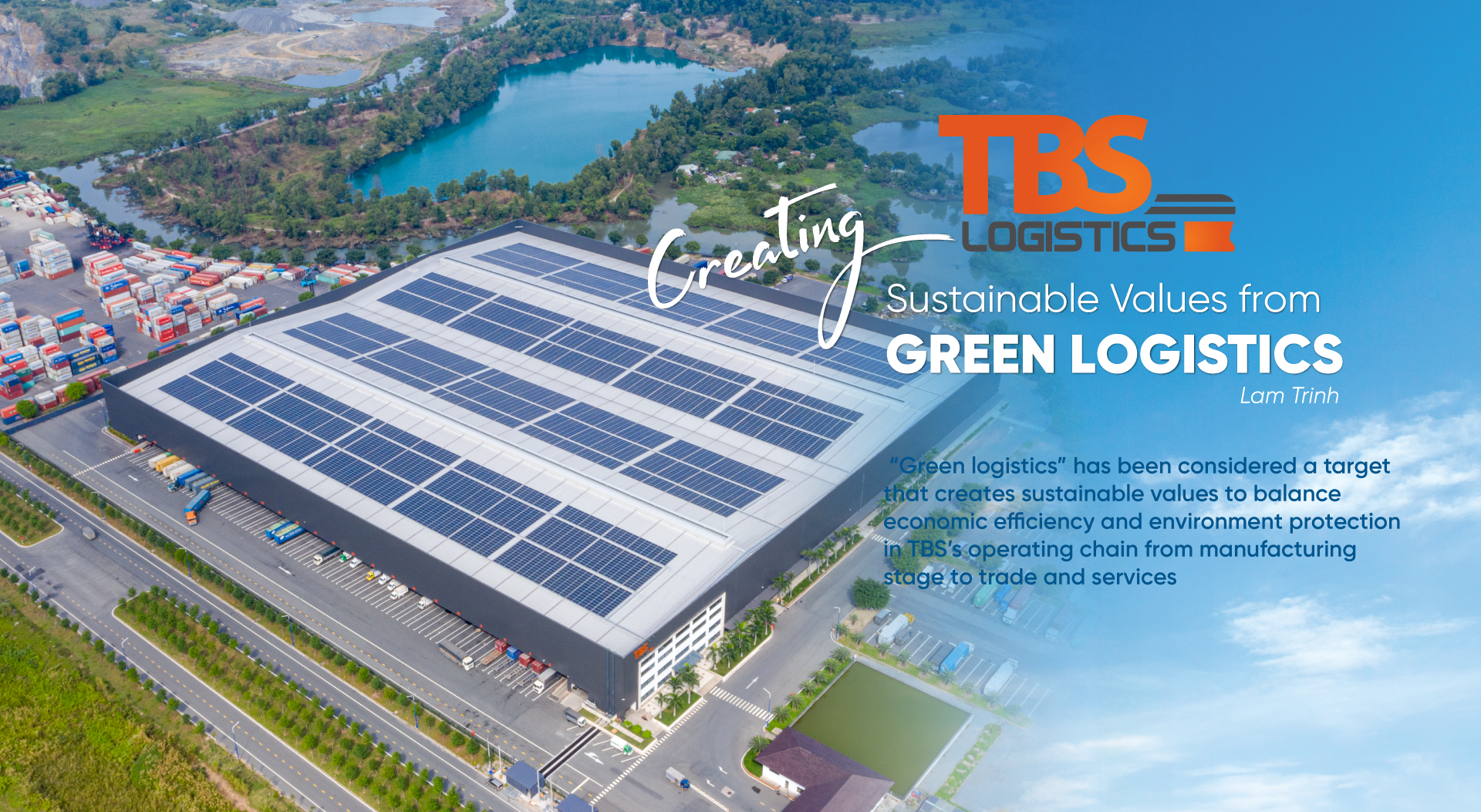 Founded in 2009, TBS Logistics was, at the time, a young member of TBS Group created to provide logistics services for more proactiveness in production and business activities, cost saving and better competition abilities. And for making good use of advantages from geographical position and modern infrastructure that have been synchronously invested, and quick development of industry- service- trade sectors, TBS has a motive force for its ceaseless development, not only well serving itself but also providing its partners and customers best services.
In the trend of global transformation and change, TBS Logistics has paid special attention to "greening" in its operations. Talking to us, Nguyen Thi Vui- General Director of TBS Logistics- said that business development associated with ecological and environmental balancing activities is an inevitable trend and also their important criterion- to be a foundation for the company's sustainable development.

According to the General Director Nguyen Thi Vui, through practice, applying green logistics to business not only helps reduce environmental harms but also brings many benefits to businesses such as: Reducing production costs by using fuel-efficient means of transport, putting in priority the use of clean fuels, planning freight transport network, arranging distribution centers and choosing reasonable traffic routes...; Second, reducing industrial waste by using packaging made from recyclable or biodegradable materials in the natural environment instead of using packaging that takes up warehouse space and affects the greening level of logistics sector; Third, avoiding waste. Thereby, thanks to applying green logistics in warehouse design for enterprises such as strategic optimizing warehouse and inventory layout to reduce logistics costs; using energy efficiently, exploiting clean energy; designing a sustainable warehouse system, avoiding waste of materials, due to having to rebuild or warehouses quickly degraded … "If the criteria on environment and green logistics are not fulfilled, enterprises will gradually be eliminated from business and commercial activities", affirmed Vui.

From the awareness, during the development process, TBS Logistics always aims to modernize production and business processes with warehouses, yards, and transportation systems that have been newly invested, expanded and upgraded.
So far, the company has invested in a 6KB solar power system; its warehouse system meets international standards, built with environmentally friendly materials such as using Bluscope steel for warehouse roof...
At the same time, for comprehensive 'greening', TBS Logistics has also had the policy of 'green design' with naturally environmental friendliness in its warehouse and office premises. The company's working and production areas are surrounded with green parks- a green, fresh and friendly ecosystem.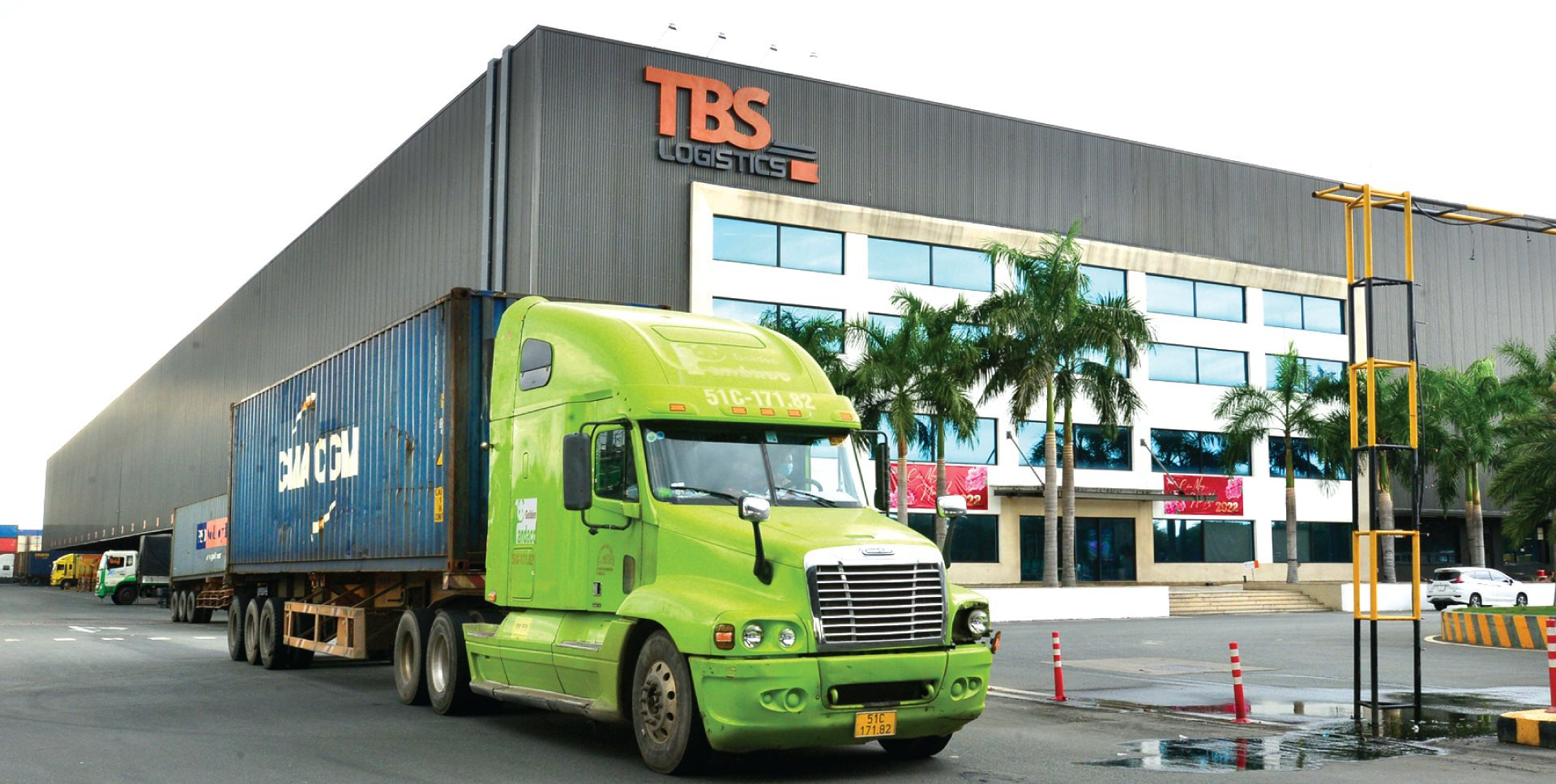 Besides, the company has also carried out power and water supply savings and classifying wastes. Members in the company have also been informed for mutual implementation.
Talking about importance of Green logistics, MS Nguyen Thi Phuong Lien - Hanoi University of Industry - also affirmed Vietnam is currently using a lot of efforts to develop the economy towards green growth and sustainable development. Therefore, developing logistics activities in the direction of greening with specific activities such as controlling green packaging, green transportation, green warehouses, green construction... is the top concern of the state as well as the government and enterprises as well. The purpose of green logistics is to optimize relationship between warehouse operations, goods distribution and the natural environment, developing to meet current needs without reducing availability and quality of resources. The core of this trend is the application of management and technical measures to reduce losses and to reduce energy consumption of vehicles and equipment while still ensuring the needs and goals set for life and the process of production.

With application of Green logistics in production and business, TBS Logistics has been constantly innovating to improve values and quality of products and services with reasonable prices, environmental friendliness, management and effective use of resources. It also minimizes all costs and risks, takes advantage of all potentials and opportunities as well as promotes cooperation with domestic and foreign strategic partners to enhance its position, thereby building trust and close relationship with customers and partners for sustainable development