The VLR magazine and Dibee company collaborate in digital transformation communication in the logistics field
English - Ngày đăng : 17:51, 15/05/2023
Recently, in Ho Chi Minh City, the Vietnam Logistics Review (VLR) magazine and Connexion Vietnam Co., Ltd. (Dibee) had a working session and signed a cooperation agreement in the field of digital transformation in transportation and logistics communication.
The VLR magazine is the official media agency of the Vietnam Logistics Service Business Association (VLA). It is an economic foreign communication channel that accompanies the development of businesses in the logistics and import-export service sectors. With 15 years of operation, the VLR magazine has achieved significant accomplishments and established its position as a specialized economic information channel, connecting businesses through various domestic and international activities and events.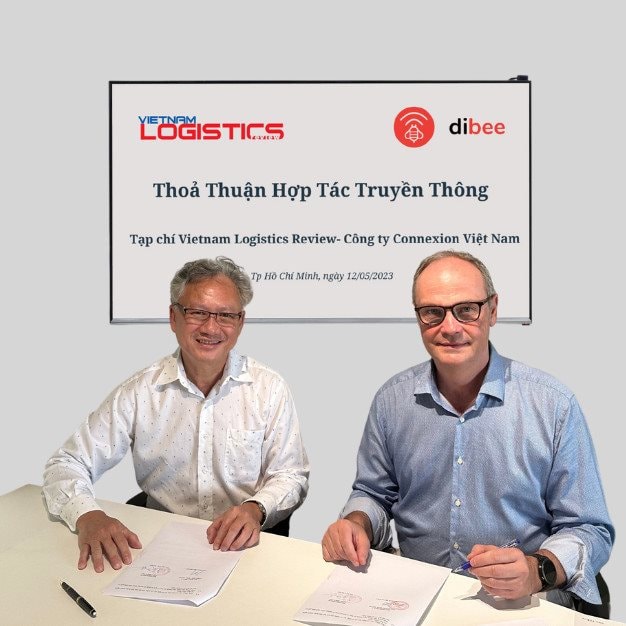 On the other hand, Dibee is known as a company specialized in providing technology solutions to enhance cost management efficiency for vehicle fleets, reduce fuel costs, and optimize operations for transportation businesses. The integrated solution provided by Dibee is electronic payment through smart card or mobile app, eliminating the need for cash or fuel vouchers for transactions. It also includes fuel fleet management through real-time reporting systems for each transaction, analysis, and automatic alerts for any abnormal transactions. Dibee can be considered the key to digital transformation in the logistics field, helping transportation businesses improve operational efficiency and productivity while opening up growth opportunities and new directions for logistics activities in Vietnam.
During the signing ceremony, Mr. Le Van Hy, the Editor-in-Chief of the VLR magazine, stated: "Digital transformation is an essential trend for development in the new era. Especially in the logistics field, the application of technology and digitization of supply chain activities are in high demand, serving as a driving force for development through smart management technology, cost savings, accurate data, and significant risk reduction by eliminating cash payments."
Mr. Thomas Beurthey, the CEO of Dibee in Vietnam, warmly welcomed and highly appreciated the collaboration between the two entities, with the hope of providing excellent choices for logistics companies, especially transportation companies in Vietnam. Dibee's technological solutions in digital transformation will support businesses in fleet management and efficient business operations by saving costs, minimizing waste at an optimal level, and enhancing the competitiveness of logistics companies in general and transportation businesses in particular.