Transforming the logistics industry with optimized supply chain data management
English - Ngày đăng : 09:20, 15/09/2023
Statistics from the Vietnam Logistics Business Association (VLA) indicate that the adoption of digital technology within the logistics sector is currently only at around 40%, still a considerable distance from achieving comprehensive digital transformation. To expedite this transition, the Vietnamese logistics industry needs to swiftly address the challenges of data management, coordination, and effective transport monitoring through suitable digital technology applications.


According to the World Bank's 2023 Logisticsm Performance Index report, Vietnam ranks 43rd on the list, standing among the top 5 ASEAN countries, trailing behind Singapore, Malaysia, Thailand, and sharing the position with the Philippines. However, alongside bright spots, various studies also highlight several "gray areas," such as high logistics costs, weak financial capabilities of Vietnamese logistics businesses, and limited information utilization.

Especially within the domestic supply chain, inefficiencies arise due to the lack of crucial information about shipments and assets during transportation. Inflexible and non-real-time data updates hinder efficient supply chain management. Consequently, order processing speed and accuracy are compromised, leading to customer dissatisfaction, loss of goods, and a decrease in the competitive prowess of the Vietnamese logistics sector.

With the aim of improving operational efficiency and adding value to the Vietnamese logistics industry, MTS introduces an advanced duo of solutions: Scandit and Qualcomm QTS110. These solutions help overcome limitations associated with traditional methods of data collection and supply chain monitoring.
Regarding Scandit, Mr. Tran Quoc Tien, the representative of MTS, states: "This is an intelligent barcode scanning and data collection solution that effectively replaces traditional handheld barcode scanners. Leveraging modern technology, Scandit transforms each smartphone into a fully functional barcode scanner, with an average cost per device or user being only one-third of traditional devices."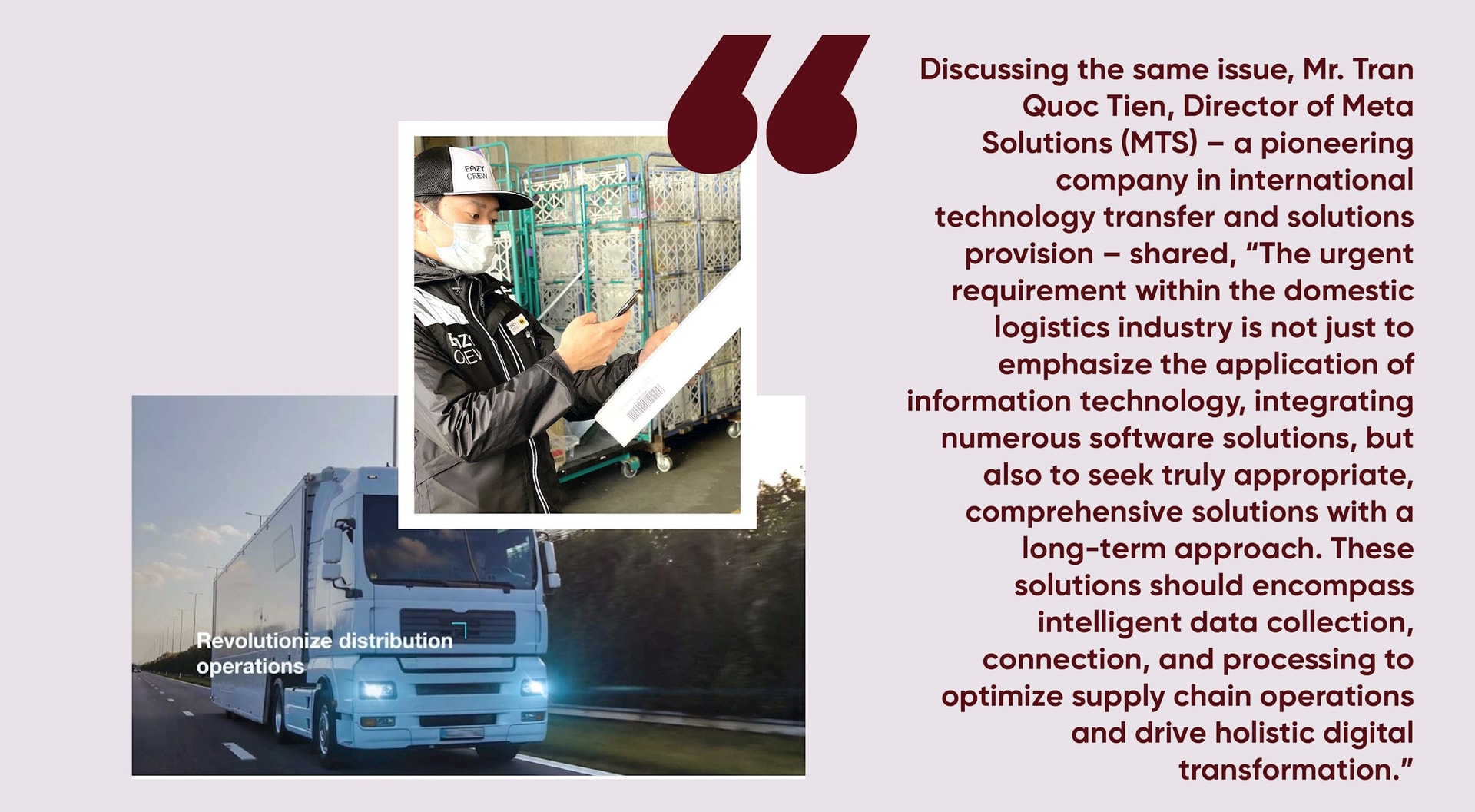 Scandit is a trusted solution deployed by thousands of global enterprises in transportation, logistics, and retail sectors, such as Yamato, Decathlon, Aeon Retail, River Island, Yodel, and more. It offers flexibility in adjusting user and device numbers according to business needs or seasonal peaks, with limitless scalability and rapid feature updates.

Another notable feature of Scandit is its ability to scan multiple barcodes at once, scan from distances of up to 2.4 meters, and handle challenging barcodes, even in low light conditions. This optimizes information collection, transportation processes, and supply chain operations, enhancing order processing speed and accuracy for logistics businesses.


As part of the digital transformation drive in the logistics industry, Qualcomm QTS110 provides an ideal upgrade to address gaps in traditional cargo monitoring solutions like GPS. Qualcomm's solution is versatile, effectively serving pallet and container monitoring, cold chain delivery, theft prevention, along with easy integration and strong security. This enables Vietnamese logistics
businesses to deploy quickly and safely.
By optimizing data collection streams and swiftly updating real-time supply chain changes, solutions like Scandit and Qualcomm QTS110 contribute to transforming the work processes and operational procedures of Vietnamese logistics companies towards modernization and high performance.

They play a crucial role in accelerating the overall digital transformation process of the entire industry. Aligned with the global trend of strong digital transformation across various fields, we hope that MTS, together with pioneering tech companies, will collaborate with agencies, organizations, and logistics enterprises to provide worldclass advanced technological solutions at affordable costs. This will enhance competitiveness, drive successful digital transformation, and position Vietnam as a leader in the Southeast Asian region