VLA's 28th anniversary: Important achievements gained in the special context
Thời sự - Logistics - Ngày đăng : 08:00, 07/01/2022
(VLR) The Vietnam Logistics Business Association (VLA) has its 28th anniversary this year (Nov 28, 1993 - Nov 28, 2021) in a very special context that they have never experienced before. After recovery and having remarkable achievements in the first months of the years, Vietnam experienced serious impacts from the 4th outbreak of COVID-19, importexport supply chain and domestic transport were suspended. From Oct 2021, there has been socioeconomic recovery when Vietnam has opened up their economy: supply chains have been recovered; cargo flows and production and business activities have been recovered; enterprises are ready to adapt the "new normality".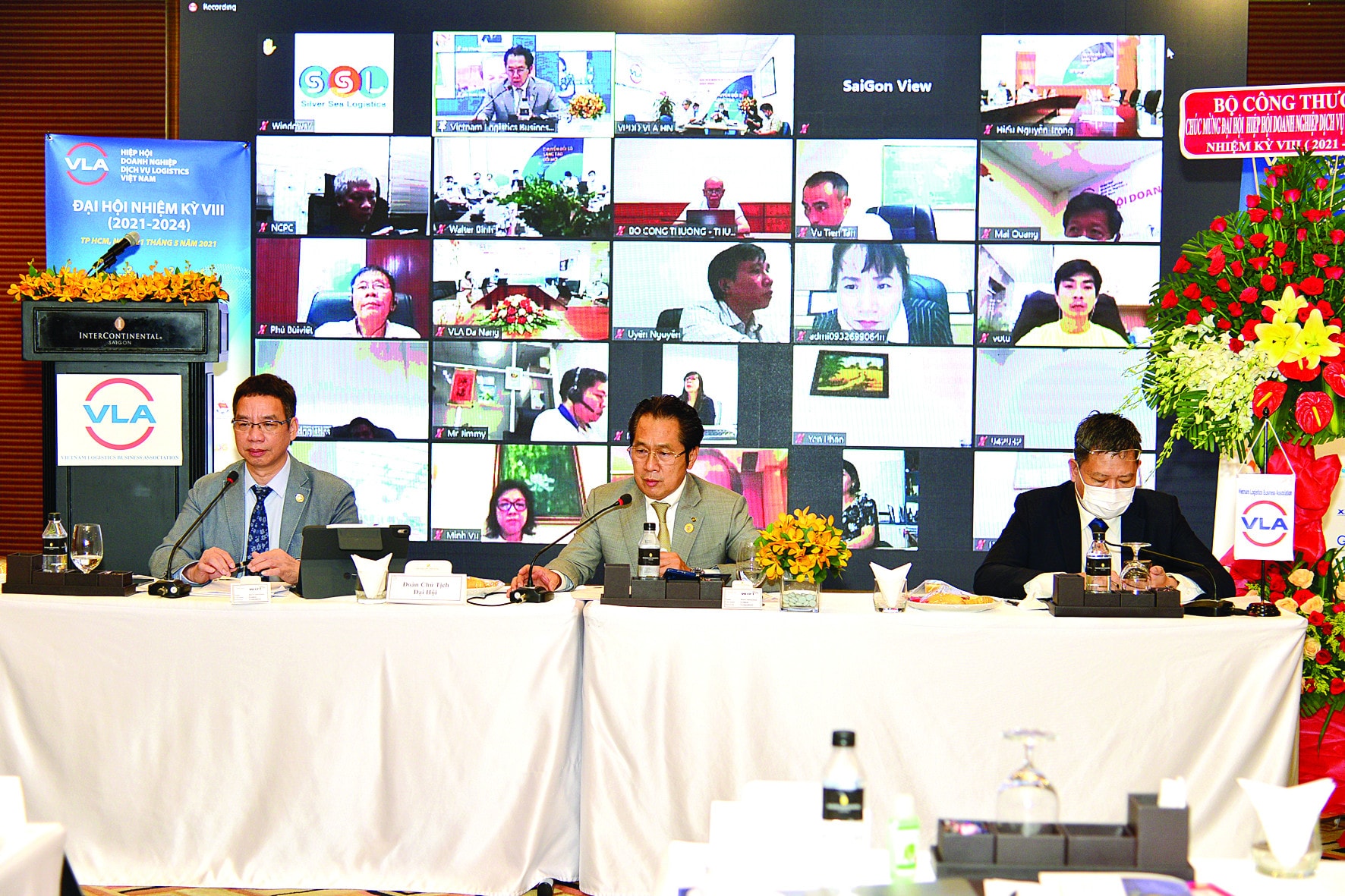 In the context of being suffered from impacts of the COVID-19 pandemic, VLA conducted the 8th Congress for the term 2021 - 2024 on May 21, 2021 in an online form with the theme "Digital Transformation, innovation, creation". The Congress amended the Charter, including the term of 3-year length. Based on the spirit of the Resolution of the 13th National Party Congress and the Prime Minister's Decision no.221/QD-TTg dated January 22, 2021, the Congress set out directions:
Increasing the number of member enterprises providing package logistics services to achieve high service quality (3PL, 4PL); admitting 100 - 150 new members. The Association's member try to achieve a growth rate of 14% - 16% pa; outsourcing reaches 80% - 90%. By the end of Nov 2021, the number of new members admitted in 2021 has reached 80 new members- the highest number in recent years, partly thanks to prestige and benefit brought to members from the Association.
Accelerating Digital Transformation: members together having plans and strategies to build a digital transformation platform and knowing how to apply appropriate technology for key logistics activities. The Association will keep support developing logistics service business associations in key localities. Renovating models of high-quality logistics human resource training in the direction of management and engineering training. Strengthening high-quality logistics service with high value-added and connecting closely to the global supply chain. Strengthening foreign cooperation. Taking part in the candidacy procedure to organize FIATA World Congress 2023 or 2024.
According to the OECD's Competitiveness Assessment Report (September 9, 2021), the logistics sector in Vietnam in 2019, the transport and logistics market estimatedly reached USD 61.83 bn , accounting for 3.5% of the employed population. According to reports by the Ministry of Industry and Trade submitted to the Government on November 2, 2021, the LPI 2021 score increased (3.34/3.27) compared to 2018. Thus, we can see Vietnam's LPI in 2021 remained at the same level as in 2018.
In e-commerce, although transactions have been carried out in the network environment, services of logistics and delivery are indispensable links to fulfil e-commerce orders of groups of tangible products. In 2021, logistics services have served export agricultural product transactions through e-platforms under influence from the COVID-19 pandemic.
In general, with experience after being severely impacted in 2020, member enterprises have endured and adapted to the new situation, recovered logistics service activities and achieved the growth in the year 2021, especially in sea and air logistics services, thereby effectively serving the growth of import and export and production, and disease prevention. This year's import-export turnover is likely to reach or exceed USD 600 bn.
The Association has done a good job of social criticism, giving timely feedback to relevant management agencies and the Government to promptly consider and solve difficulties of member enterprises in the prevention of COVID-19 epidemic, ensuring for production development, as the proposal on regulations on green channels for road transport, priority given to vaccination for enterprises and personnel directly involved in transportation, freight forwarding, working at seaports and airports; supporting enterprises in electricity prices, reducing corporate income tax and value-added tax, reducing tolls, tolls, seaports... for businesses in difficulty; giving suggestions to the Vietnam National Aviation Administration on solutions for the high sea container freight rates and surcharges, the lack of empty containers,... especially, proposing to the Vietnam Maritime Administration to develop Vietnam's container shipping fleet.
Legal advice on logistics: the Association has connected legal advice with training, continues to promote legal advice for member enterprises in a practical way. In 2021, it held 5 Webinars, Published 12 Newsletters, 12 in-depth legal analysis articles in business activities and provided free and effective legal advice for members 90 times, gave instruction on COVID-19 to Members and force majeure events are highly appreciated by Members.
The result in 2021 is encouraging for a year of striving in the difficult context after the pandemica practical gift to welcome the 28th Anniversary. The Association will surely keep developing in its 29.