Challenges in e-commerce logistics
Hạ tầng - Ngày đăng : 08:53, 26/08/2021
(VLR) The characteristics of e-commerce are a wide market coverage, high dispersion of goods, small scale, large purchasing frequency, diverse products, fast delivery time, free delivery and on-site money collecting. Flows of goods in e-trade environment significantly expand scope, distance, and complexity. E-commerce logistics channel has big differences from traditional logistics.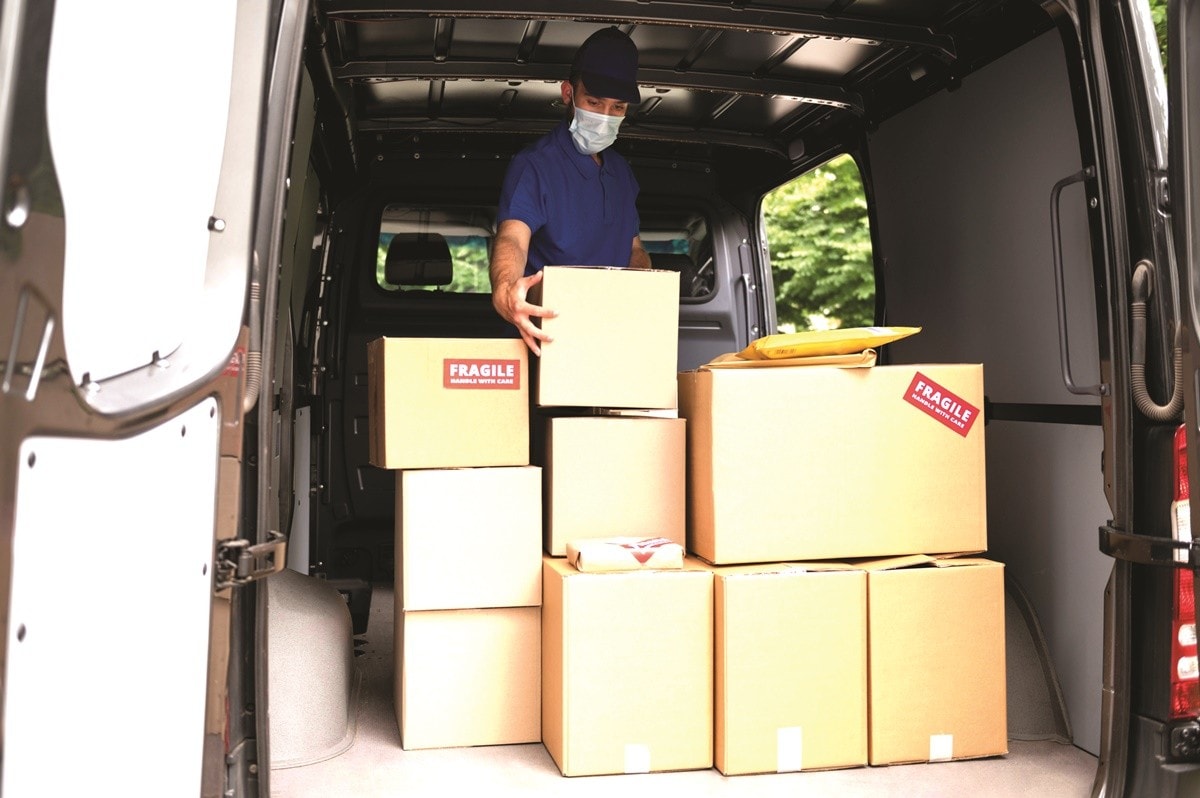 The characteristics of e-commerce are a wide market coverage, high dispersion of goods, small scale, large purchasing frequency, diverse products, fast delivery time, free delivery and on-site money collecting
Changes in delivery channel structure
E-commerce distribution channels tend to minimize commercial intermediaries. In e-commerce transactions, due to virtual buying and selling, traditional commercial intermediaries as wholesalers and retailers can be eliminated for unnecessary commercial presence- so called intermediary elimination. This creates distribution channels with less intermediary levels. Producers can even have online connection to sell directly to end consumers.
However, when the e-commerce market becomes large- buyers' locations are far, the number of order is high, the orders' sizes are small and fast delivery is required, the shipping workload will be complex and large. The e-commerce distribution channel needs new logistics intermediaries to optimize the shipping work (Figure 1d).

Professional e-commerce logistics intermediaries needs different capabilities compared to traditional intermediaries. For example, e-fulfilment center is a large facility of dozen thousands of square meters, which is partially or fully automated. They have the function of consolidating individual shipments and forwarding them to parcel centers. They are normally located at low-cost locations with access to highways and parcel centers. Sortation centers or parcel hubs have a large scale, normally apply cross-dock model to divide parcels to localities of smaller units, such as postal code. They are then sent to local post offices or delivery companies for last-mile delivery. Urban logistics deports and parcel delivery center are small or medium-size establishments located in the periphery of each urban area, mainly for sorting parcels. They are placed on delivery routes (Figure 2).

E-commerce channels
E-commerce logistics channels tend to extend in term of distance and directly reach end consumers with regularly small scale orders. Transporting FCL is no longer suitable, but mainly LCL instead. The main reason is purchasing demands have expanded across many countries and become fragmented compared to sources of goods. Small-sized orders, quick delivery demands make it difficult to consolidate them to large batches. On the other hand, many small retailers cannot afford to buy goods in large quantities, they are limited in terms of assets and inventory, which results in the fact that shippers normally place orders in small quantity and ship them to many different locations. Logistics intermediaries need an optimal consolidation network, with attention to consolidating and crossdocking solutions, helping reduce inventory, inventory costs and improving advantages for e-orders and lastmile delivery.
Last-mile delivery costs
Last-mile delivery costs account for more than half of e-commerce transactions- the biggest challenge for the current B2C delivery (Figure 3). While the costs account for 53%, consumers wish to have free delivery. This requires e-commerce enterprises to have strict management measures to minimize the cost. Parcel delivery is always having top priority in delivery considerations. This is because the parcel delivery sector has the capacity to transport and distribute in accordance to characteristics of demands and order sizes in e-commerce (Figure 2). Moreover, with a large supply scale, parcel delivery sector has flexible responds with many options in terms of costs and delivery time. In absence of parcel service, intradelivery or crowdsourcing delivery will be options to be considered. However, they are not satisfying in terms of quality and costs in last-mile delivery and only used to complement parcel delivery.
Challenges to Vietnam e-commerce logistics sector
The above changes have posed many challenges for Vietnam's e-commerce logistics sector. First, there are requirements for network infrastructure and intermediaries. With the increasingly popular trend of shopping online, e-commerce logistics supply chain needs to be shortened, eliminating intermediary stages so that goods can go directly from distributors' warehouses to consumers' hands. However, transport infrastructure and warehousing in Vietnam have not met this requirement. Besides foreign brands as FedEx, DHL Express, UPS Vietnam… logistics enterprises serving e-commerce having large scale, modern technology investment, and network covering cities and provinces nationwide as Vietnam Post, Viettel Post in limited in number and they are in stages of setting up online management systems on services of transport, forwarding or perfecting their networks. E-commerce enterprises still have to use traditional logistics services, which make it difficult to fulfil e-commerce orders with diverse and constantly changing requirements. Traditional logistics enterprises mostly apply single solutions. About 40% of technology applications being used at logistics enterprises are basic applications as international forwarding management, electronic data exchange, customs declaration, warehouse management, transport… and they have not been in synchronous coordination. To fulfill e-orders, traditional logistics enterprises have to apply highly integrated solutions. They have to promote digital transformation, invest in technology and improve quality of transport and logistics services. If not, they will be competed and annexed.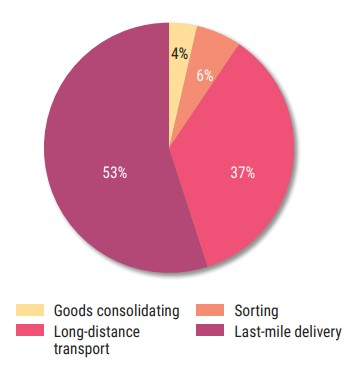 In city area, there are mostly small-sized units of forwarding and delivery operating in small area. They are unprofessional and require relatively high costs. The delivery cost is VND 20,000 - 40,000/ an orderequally 10% - 20% of the order value. This is not a low cost for a normal delivery quality. In the situation, many e-commerce enterprises have to do logistics themselves by renting factories and spending a lot of money to make them their logistics centers. This will increase costs and reduce professionality in supply. In additions customers have not yet appreciated delivery quality due to incorrect delivery time, seller-tracking difficulties and complicated process of returning goods.
As a result, price of online purchases is not much lower than that of traditional purchases.
Vehicles used in last-mile delivery in Vietnam is not diverse, mainly motorbikes, which creates high costs. Motorbikes are not made for goods delivery so boxes are attached to store goods. Storage box is small from 0.2 - 0.3 m3, so the efficiency of using motorbikes for delivery is not high due to high investment and operation costs. Using trucks or pick-up trucks for delivery will probably face with problems of congestions or having special licenses, which also increases logistics costs as well.
Last-mile delivery is mainly home delivery, accounting for more than 95% of B2C e-commerce transactions, with COD shipping. Postal Code has not been used in Vietnam, it will be difficult for delivery to unclear addresses. Therefore, successful delivery rate is quite low: customers may make a lot of orders but they do not receive any thing or do not receive the item they ordered.
In the term of distribution, Vietnam's e-commerce logistics is at its primitive stage. There is the lack of a professional infrastructure network with good coverage; simple last-mile methods; low delivery quality; high costs … E-logistics has not well supported e-commerce transactions. While its potential growth of e-logistics is great. With the growth rate of 20% - 50%, the e-commerce market is expected to reach USD 15bn in 2025.
The logistics industry is estimated to achieve an average growth of 42% pa until 2022. To take advantage of these great potentials, investors are required to expand and modernize their warehouses, and to have network planning to solve methods of delivery and optimize route delivery. Besides, digital transformation should be improved to create compatibility to e-commerce initiatives, and they should enhance synchronization and management of logistics chains. At the same time, government agencies also need to have innovative policies to promote the potentials.