"Branding goes together with social responsibilities"
Thương hiệu - Giao thương - Ngày đăng : 14:00, 14/09/2021
(VLR) Bee Logistics has had a number of particular success on its 17-year progress of development and a number of remarkable milestones… When the whole country is fighting against the pandemic, Bee Logistics has had important contribution in the task of epidemic prevention, carried out social responsibilities with practical activities. Dinh Huu Thanh - President/General Director of Bee Logistics- shared his thoughts.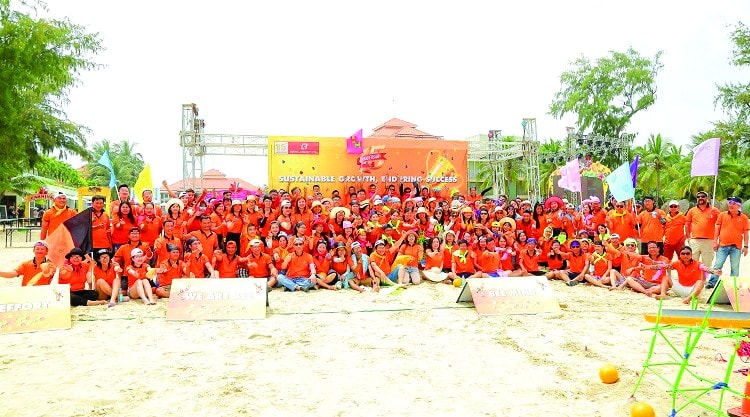 The collective of employees at Bee Logistics is always dynamic and creative, bringing customers the best services and experience (In the photo: Team building activities in 2019)
In the complicated happening of the epidemic, has Bee Logistics had particular activities to prevent the epidemic and to maintain business activities at the same time?
Facing these inadequacies, we convened the board of leaders and key staff to launch a campaign to prevent the epidemic and to maintain Bee's business activities in the spirit of being faster, having more determination and greater effort; having more drastic and effective action".Since the beginning of 2020, impacts from the pandemic of COVID-19 has put the world economic in the economic downturn, and hundred thousands of enterprises have faced difficulties. To Bee Logistics, it is also a serious impact, too. Many factories had to stop their operation, resulting in reduction of the amount of goods that need to be transported and reduction in forwarding activities in the supply chain, and also resulting in reduction in operation of services of warehouses, bondedwarehouses, transport and customs…
We have promoted segments of business that had not much potential before to be the potential ones as charter service or air consol service. Flights have been maintained regularly from Vietnam to Australia, from Hanoi to Incheon, Korea so far… In addition, based on potential of contractual relationship with many shipping lines, Bee Logistics has deployed many solutions that meet customers' needs for cargo places and equipment, helping customers not to miss business opportunities and meet on time delivery.
The company keeps applying medical measures to protect employees' safety and health in working progress and it also offers forms of finance to employee in cases they are infected and then, isolated during their work and contacts to customers.
It is known that Bee Logistics has donated hundreds of millions of VND for the task of COVID-19 prevention in HCMC and in some other cities and provinces. At the same time, Bee Logistics has also established charity groups sending gifts of vegetables and essential goods to those in difficulties from the epidemic impacts. Can you give more information about it?
With the target of bringing best services and experience to customers, together with tasks of building and developing the brand, Bee Logistics has also performed its social responsibility, joining hands for the community. We do it with the sympathy and understanding with the loses and difficulties the community is facing. All the company staff has the same feelings, forming a sharing culture in Bee Logistics.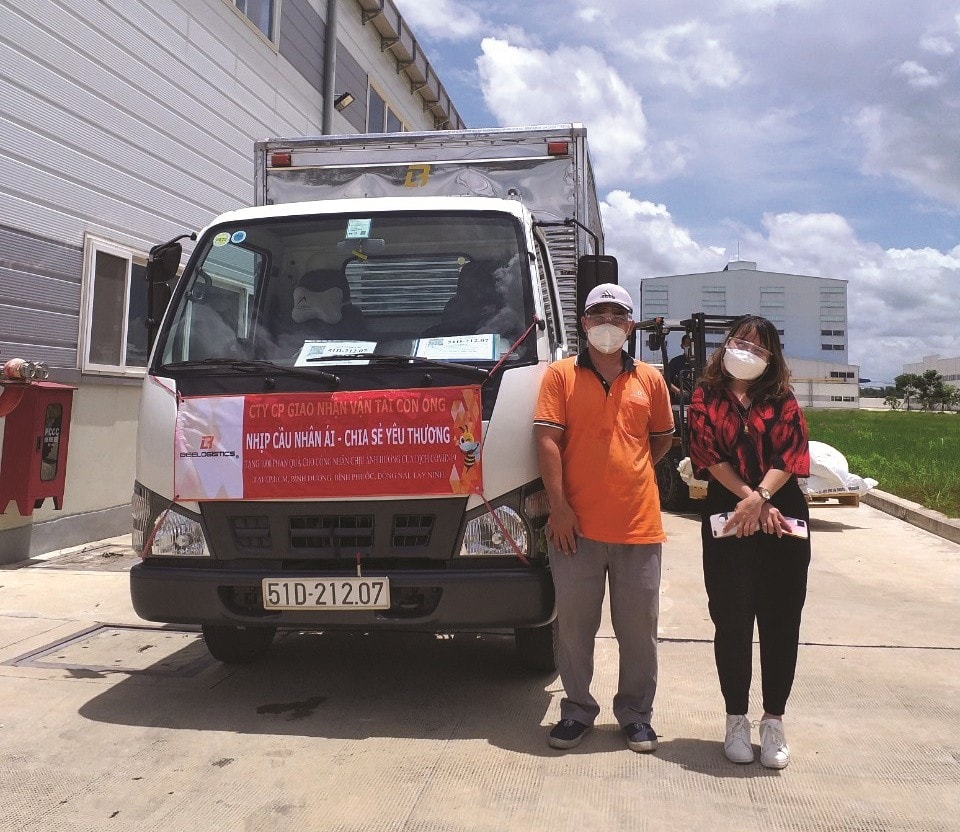 Bee Logistics sent a number of enterprises in HCMC, Binh Duong, Binh Phuoc and Dong Nai gifts of essential goods to share with them difficulties
And "Bee Logistics Charity Fund" was established. The "Bee family" has contributed by deducting their salary to raise fund with the wish of bringing love to those in need… We have been trying to make it bigger and bigger so that Bee Logistics and staff can keep doing charity activities nationwide, setting the fire of love and make life more meaningful.
In the next stage of development, Bee Logistics will have to deal with difficulties and pressure when the epidemic has not been controlled and there have been constant fluctuations of the Vietnam's economy and the world's one. In the coming time, how will Bell Logistics catch opportunities and overcome challenges?
And how about development plans in the future? The RCEP and many FTAs have been signed, exchange of goods among Vietnam and the world, investment procedures and investment protection have been considered more important- opportunities and challenges to logistics providers in general and Bee Logistics in particular. It is required that enterprises be confident enough to expand their business abroad and they are encouraged to build their own core competencies for competing in Vietnam and going far abroad. Then, their vision will be no longer limited in domestic market, they will be regional and global one.
In the coming time, Bee Logistics will keep diversifying its value added services as CO service, DG transportation, cargo insurance services, and settlement reporting services at factories. We will keep working with airlines to promote full-time air consol service for route connecting Vietnam and Europe, and expanding market in the region of North America. Bee Logistics also have plans to strengthen its presence in the North America, Europe and Southeast Asia in 2022 - 2030.
Any connecting stage has its own potential difficulties and in the stage, Bee Logistics has been facing certain difficulties. But the achieved success and existing foundation are the basis for us to believe in greater successes in the future.