Deoca Group and works to welcome the spring
Thương hiệu - Giao thương - Ngày đăng : 09:00, 09/02/2022
(VLR) On the late afternoon at the end of the year 2021, at his home in Hanoi, Chairman of the Management Board of Deoca Group invited advisors for dinner according to the practice of the Group. Ho Minh Hoang informed them about the Group's operations last year from Cao Bang - the land of revolution - to the Mekong Delta.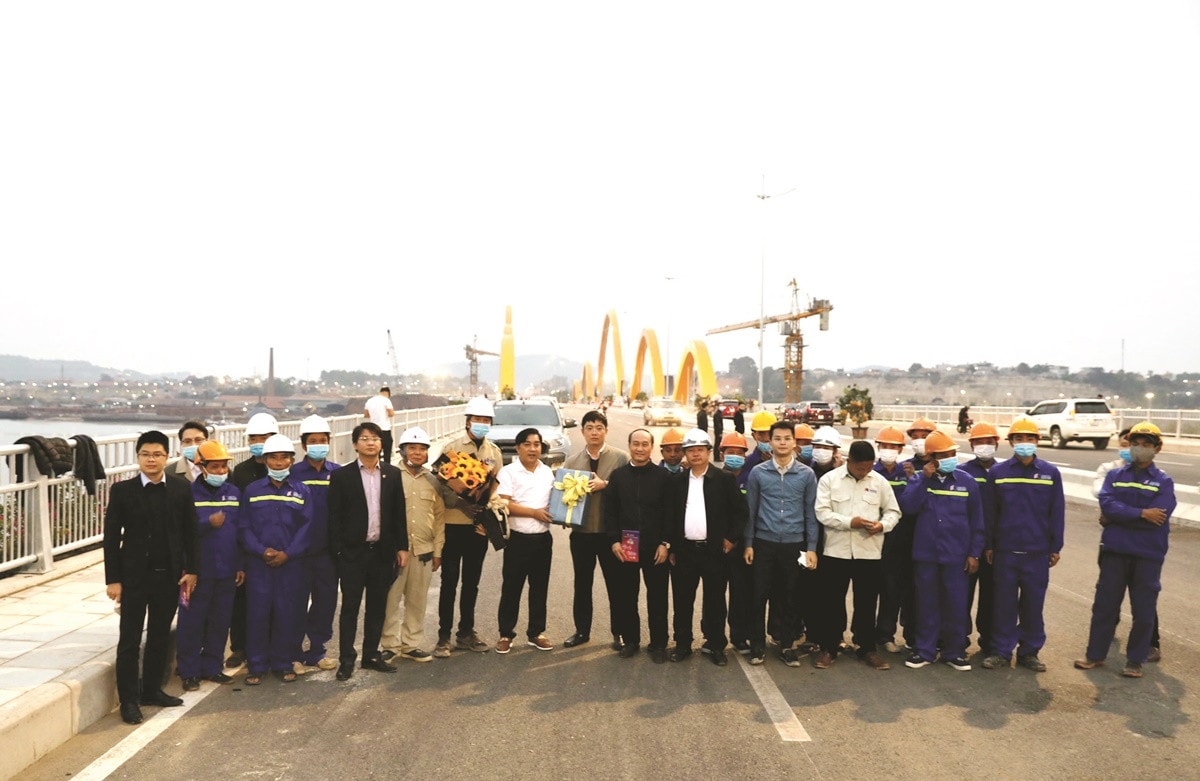 The end-of-the year dinner
Ho Minh Hoang shared with his advisors:" We have successfully conquered the craggy dangerous passes in the Central, completed the typical expressway in the North - Bac Giang - Lang Son and in the South, we are about to complete Trung Luong- My Thuan Expressway, but the bridge crossing the sea with complicated geological conditions is a new milestone Deoca Group has achieved.
When the article reaches readers, Cua Luc 1 Bridge has welcomed thousands of Quang Ninh people to cross it. In just 20 months, a bridge was built from the two banks of wasteland and it has been completed on the occasion of the beginning of the New Yearvery meaningful to both provincial and leaders.
Looking at the photo taken from above of Cua Luc 1 Brige shimmering at night, Ho Nghia Dung - Chairman of the Advisor Council said the completion of Cua Luc 1 was a success- a surprise to him. Deoca gave an account for they performed a completely different task from what they have done with their advantages.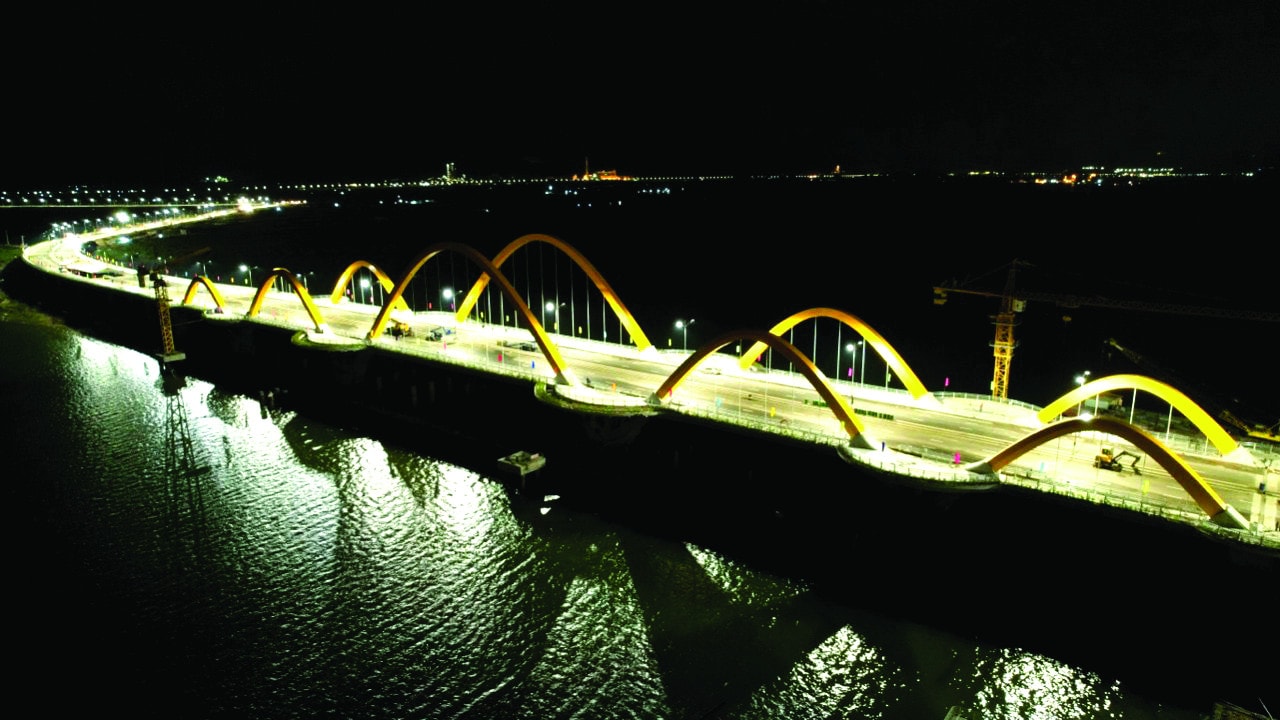 "The fact that Trung LuongMy Thuan Expressway is about to complete is proud", said Dung. In the context of suffering direct impacts from the epidemic: there was a time when dozens of cadres and workers, the project was stopped for nearly ten years with trouble left by the old investors. " In two years and a half, you guys brought the progress to over 90% - it is a miracle, a miracle that did not come naturally. I find that Deoca has been flexible adapted to difficult situations and solved it smoothly and quickly", added Dung.
Chairman of Deoca Group recalled the time when Deoca took over the project, the first working sessions with the locality in March and April of 2019, there was always the presence of advisor Ho Nghia Dung, who can create trust to the local authority. After that, advisors Bui Van Ha and Nguyen Thanh Trang, especially, spent a lot of time and efforts reestablishing discipline in the projects, advisors Ngo Van Quy and Duong Dang Hue dealt with auditing and legal issues and things were then operated in Deoca's stature. In the construction site, there was the monthly presence of advisor Tran Chung - an expert in construction quality...
Tran Chung called a dinner with advisors a practice imbued with Hanoi's culture. As always, Le Manh Hung rode his bicycle to the dinner, on the handlebar were a few liter of draft beer and some snacks "made in pho co (ancient town)". He said: "It is tasteless not to drink Hanoi draft beer in Hanoi. And it is for Chairman Hoang to remember first days of start-up in Hanoi. Besides wine for appetizers, the advisors had beer. There was a cheerful atmosphere when Hung reviewed old stories, told new ones with literary style of a Northern scholar.
In addition to creating a very successful 3P capital mobilization model in Cam Lam - Vinh Hao with the consensus of many localities, Deoca Group has connected many real estate investors, urban areas... with their accompanying the stock ticker of Deo Ca Transport Infrastructure Investment Company (HHV) will switch to trading on HoSE floor at the beginning of the new year. For many people that was the success of HHV, but for Hoang, he accepted it as something certain, "changing the floor is certain with HHV's stature".
We dig tunnels, we cross sea
At 10:30 on January 1, 2022, the Chairman of the Board and his assistants went to Thanh Hoa to visit staff of package XL-12 (Thung Thi tunnel) of Mai Son project - National Route 45. In Thung Thi, construction activities were still going on as usual. Leaders of Deoca Group entered the tunnel, paid complement to the workers, and then went through the tunnel that had been opened not long ago.
Hoang expressed his satisfaction with the progress of the project and did not forget to mention: "We have experience in implementing tunnels with very high technical requirements, so the following works must be more optimized than previous ones. Every cadre and employee must promote creativity in work".
"Today, we dug through Thung Thi Tunnel, we started a new year with an activity of advantage of Deoca Group: tunneling. I also cross the Love Bridge - one of PM's wishes. As you know, on the New Year's Eve last year, Prime Minister came and encouraged us to implement the work on schedule and with quality. On the mine land, we completed Cua Luc 1 Bridge and completed Bao Bien Tunnel with a large scale.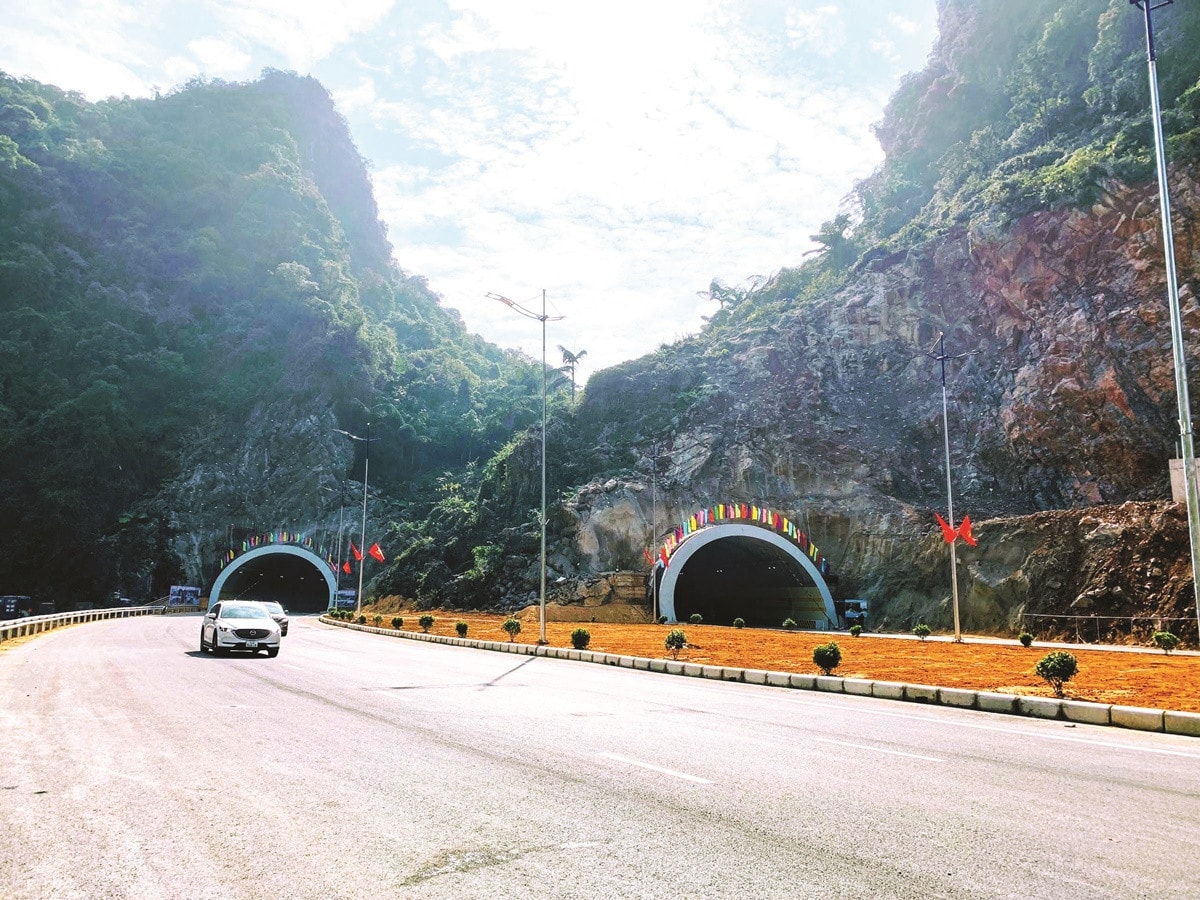 We dug tunnels, we will build bridges to cross sea, we have more courage to enter the year of 2022 with a confident stature: we will complete assigned targets", Hoang shared his thoughts with cadres and employees in Cua Luc 1 Bridge and Bao Bien Tunnel in the evening of the first day of the New Year.
Love bridge on cua luc bay is ready to serve people
Cua Luc 1 Bridge or it is called by Quang Ninh people as Love Bridge was completed and it started serving people on January 1, 2022. The bridge helps shorten time and distance from Hoanh Bo to Ha Long City center.
The bridge has the total length of 4,265m and is designed with 6 lanes. It is the work with many technological breakthroughs: it is arranged with 5 spans of continuous thermal reinforced concrete, no expansion joints and no need to arrange expansion joints in 5 arch spans of 290 meters long. That is the superiority compared to conventional bridges in Vietnam today.
In addition to bringing Cua Luc 1 to the finish line on time, it is about to complete Cua Luc 3, Deoca Group also consulted for the locality to handle capital mobilization problems using the 3P model in the project Van Don - Mong Cai. In particular, also in the early days of this year, the people who made the Deo Ca tunnel also completed the Bao bien tunnel with a length of over 200m in the very complex geological conditions in Quang Ninh in just 8 months. It is a new record.