There will be worthy works about Quang Ngai
Văn hóa - Ngày đăng : 22:27, 07/05/2020
(VLR) Nguyen Quang Long has been a no strange name for those who love traditional art in general and love xam singing in particular. In the past 20 years, he and his coworkers have has attempts to recover and bring xam singing to public again.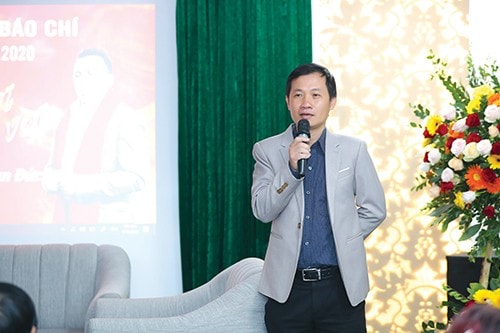 Born in Kinh Bac- the home of quan ho singing, he studied vocal music and music theory in the Vietnam National Academy of Music. Nguyen Quang Long has become a "2 in one": a researcher and a performance musician. And in the process of recovering, reserving and spreading xam singing, he has played the role of a researcher and a singer- singing xam songs. The album "Xam Hanoi" was published by the Music Publishing House in the beginning of 2016 is the first achievement of the art recovery. Then, Long with artists Mai Tuyet Hoa, Khuong Cuong, Pham Dinh Dung founded a group Xam Ha Thanh with the wish of recreating a stroke of beauty of an old Hanoi with its 36 ancient towns and prolonging it with the modern life pace. Many xam songs compsed by Long have received warm welcome from public. For example, topical xam songs as Xam Tra Da (Iced Tea), Xam sai Tieu Tru Cuop Bien (Wiping out Pirates), Xam Duong Luoi Bo (U-shaped nine dash line), Xam Ca Chet (Died fish)… or romantic ones that praise the beauty of love and Hanoi as Bon Mua Hoa Hanoi (Hanoi's Four Seasons of Flowers) and Tu Vi Ha Thanh (Four sides of Hanoi)…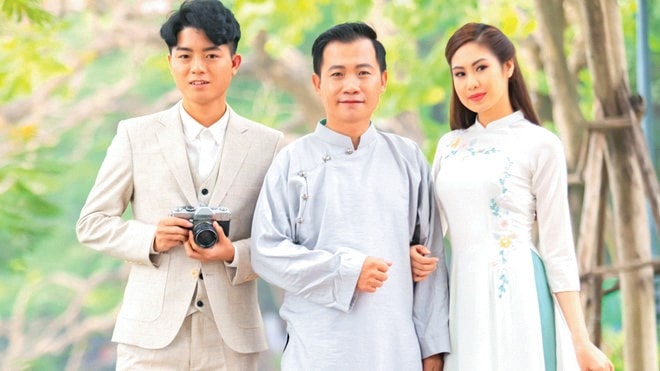 The second album "Trach Ong Nguyet Lao" (Blaming Yue Lao) was introduced at the last days of 2019 having special meaning to Long: a mile stone for 25 years devoting to professional music, 25 years in music theory research. Talking about the album, Long said he came from the home ground of quan ho and had a long time living in the place where there were love stories, sad but not a tear-
jerker ones: a couple was unable to come together, and under the pretext of blaming Yue Lao, he showed the love for the girl of his dream. Long thought why there was no xam song for the romantic story. And no long time later, Trach Ong Nguyet Lao was composed. When it became an MV, Director Nguyen Nhat Giang told a story of a handsome Hanoian photographer falling in love with a charming quan ho girl when he once came to Kinh Bac. He then returned to Kinh Bac and knew the girl had left for Hanoi. He kept finding her but he was unable to find the girl of his dream. The only thing that tied him to the land of Kinh Bac is a group of xam singing that he had met in Kinh Bac Spring Festival and he met again in Hanoi…
In the outbreak of COVID-19, Nguyen Quang Long and the group of Xam Ha Thanh introduced the work "Fighting Corona", a contribution of traditional music to the fight against the virus that has made the global chaos. Humorous words "corona, stay away from us" lightened days of worry. It is repeated continuously by a choir to connect the two main contents sung by the two vocalists. The song was in sai rhythm. Sai rhythm (sai: giving commands) in not an authentic rhythm of xam singing; however it was added by artisans to enrich xam singing. It is normally rarely used, but when it is employed… it can give out a really special one. For example, ex-artisan Ha Thi Cau once sang "Thuoc Phien" (Opium) in sai rhythm to set off an alarm bell about the matter. Sai rhythm is normally used to depict important matter. Artisan Vu Duc Sac composed a xam song "Tieu Tru Giac Dot"(Wiping out Illiteracy) to support Mass Education Movement by Chairman Ho Chi Minh in 1945.
The song "Tieu Tru Corona" has simple lyrics "Not going out, not gathering; going out when in need only; staying two meters away"… all the things: music material and lyrics aiming at what we have done to fight against the disease. And the result is not achieved naturally but with determination from the whole system- from the Government to people:" The Government showing determination; Health care sector being pioneers; Media making contribution; news spread everywhere" or "Businesspeople giving a hand; artists giving a hand; people giving a hand; be watchful; fight the disease; corona comes out and we wipe them out" and "Love your people, love your people, so welcome your people abroad"… Director Nguyen Nhat Giang said: "We made the xam song quickly and simply as a contribution to the fight against the pandemic and improvement to the community awareness. The background of the village hall was the group ideas, for the village hall symbolizes village culture, symbolizes people. And the fight against the pandemic is not merely the fight of the government, of the health care sector but it is the fight of the whole people". Long also added:" The choir in the xam song depicting the people, with the same voice and the same determination with the government to fight against the pandemic".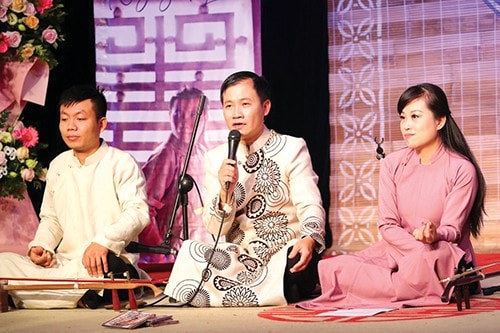 Nguyen Quang Long said he always wishes to devote to his passion- music, especially traditional music. Recently, he was one of whole-hearted people taking part in the songcomposing contest about Quang Ngai held by the Vietnam Logistics Magazine. Long said Vietnamese people who love singing surely knows lyrics "We remember there is An Mountain and Tra River in our home land…" – words in the song "Nho Dan Xe Nuoc" (Remember the Shishi Odoshi) by musican Nguyen Van Dong - a canon of Vietnam's new music. Together with An Mountain (Thien An in full), Tra River (Tra Khuc in full), Quang Ngai also has many sacred geographical locations: Ly Son Island with its Paracel Fleet or a place famous with revolutionary base of San Tinh or Ba To Rising… Quang Ngai is also a land rich in culture: Bai Choi singing- a special culture form of the Southern Central that Quang Ngai, Binh Dinh, and Quang Nam is considered its homeland and Ba Trao singing – a spiritual special form of arts of coastal people of Pho Thanh, Duc Pho, and "first sail" Festival- a festival for the hope of good weather and good catching… There are many good things to say about land and people of Quang Ngai- the home land with good tradition of fighting against intruders and the land with rich culture. With time, Quang Ngai has developed. Besides traditional songs and music, there should be a number of songs depicting proper position and expectation of Quang Ngai: contributing in the wish of going far to the great sea. I believe from traditional values from current developments of culture, economy, and society, there will be good resources for musicians nationwide having inspiration for new songs for the contest. There will be worthy works for Quang Ngai.