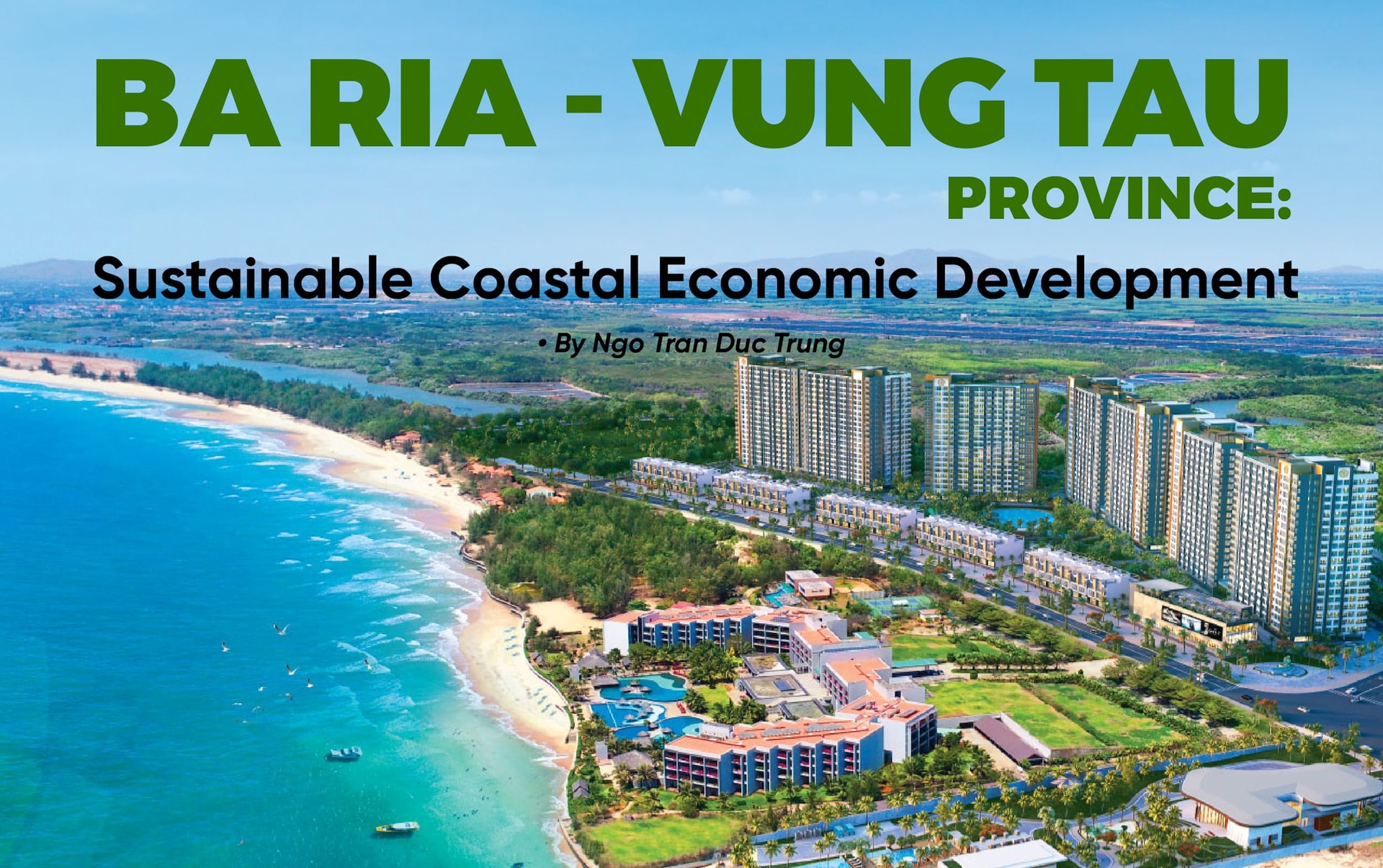 Over the past decade, with a determined effort to effectively implement Resolution No. 4 of the 10th Central Party Committee on Vietnam's Maritime Strategy and the Action Program of BRVT Province on Vietnam's Maritime Strategy, the BRVT Provincial People's Committee has directed its departments, agencies, and localities to focus on exploiting and utilizing the advantages of its coastal location and abundant marine resources to establish logistics service centers and develop a strong seaport system.

After the 12th Central Party Committee adopted Resolution No. 36-NQ/TW on "Vietnam's Maritime Strategy to 2030 and Vision to 2045," the BRVT Party Committee has been implementing it with a constant focus on "Sustainable coastal economic development on the foundation of green growth."
BRVT has also intensified the development of tourism services, offering diverse and rich maritime tourism experiences. Furthermore, the province has concentrated on efficiently managing and exploiting marine resources, investing significant resources to attract major projects, contributing to the development of a sustainable and leading maritime economy.
From having only a few specialized ports serving the oil and gas industry and marine fisheries, BRVT has now developed an integrated system of seaports planned as nationally significant ports. The Cai Mep - Thi Vai Port has seen 22 projects in operation, with a total berth length in the Cai Mep - Thi Vai area reaching 9,947 meters. By the end of December 2020, Cai Mep - Thi Vai had seven container terminals in operation, with a designed capacity of 6.8 million TEUs per year.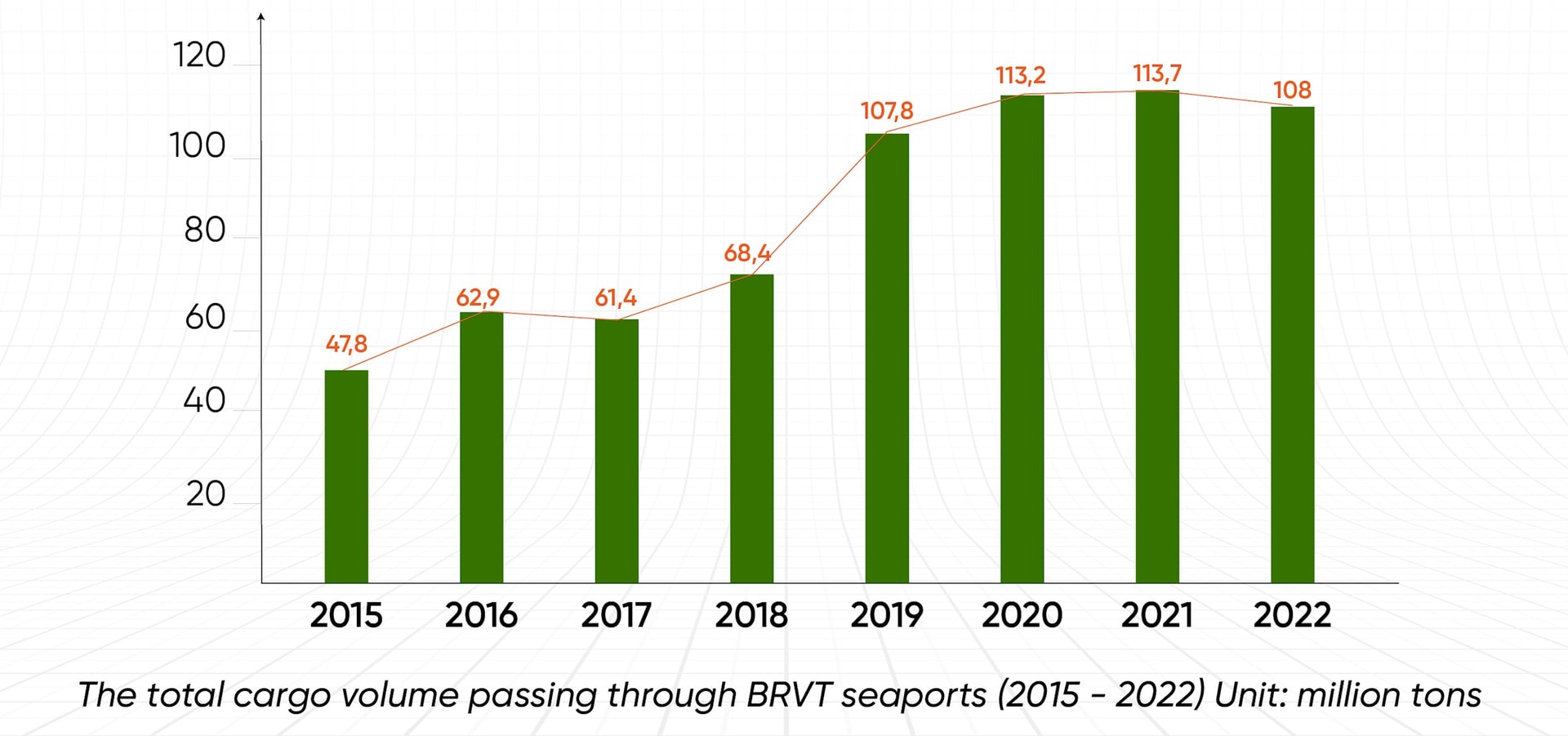 Alongside the seaport system, logistics services have also been developing steadily. In addition to the inland waterway port system, there are now more than 20 logistics warehouse projects in operation, covering a total area of approximately 224 hectares. The zoning and construction planning at a 1/2000 scale for the Cai Mep Ha Logistics Center (with a total area of 2,204 hectares) have been completed, providing a legal basis for selecting capable investors to participate in investment and connect BRVT to the global supply chain.
To fully utilize the seaport system, BRVT has long been mobilizing investment capital to develop synchronized transportation infrastructure with other provinces in the South Key Economic Zone, primarily in the Southeast region. Simultaneously, to leverage the seaport system, BRVT has planned and developed a system of industrial zones associated with seaports. Numerous large projects related to the sea have been deployed, including the 6.5 trillion VND LNG (liquefied natural gas) and natural gas reprocessing terminal in Vung Tau (commenced in October 2019) and the Southern Oil Refinery Complex worth $5.1 billion USD (invested by the Thai SCG Group, which has been approved and is currently being implemented).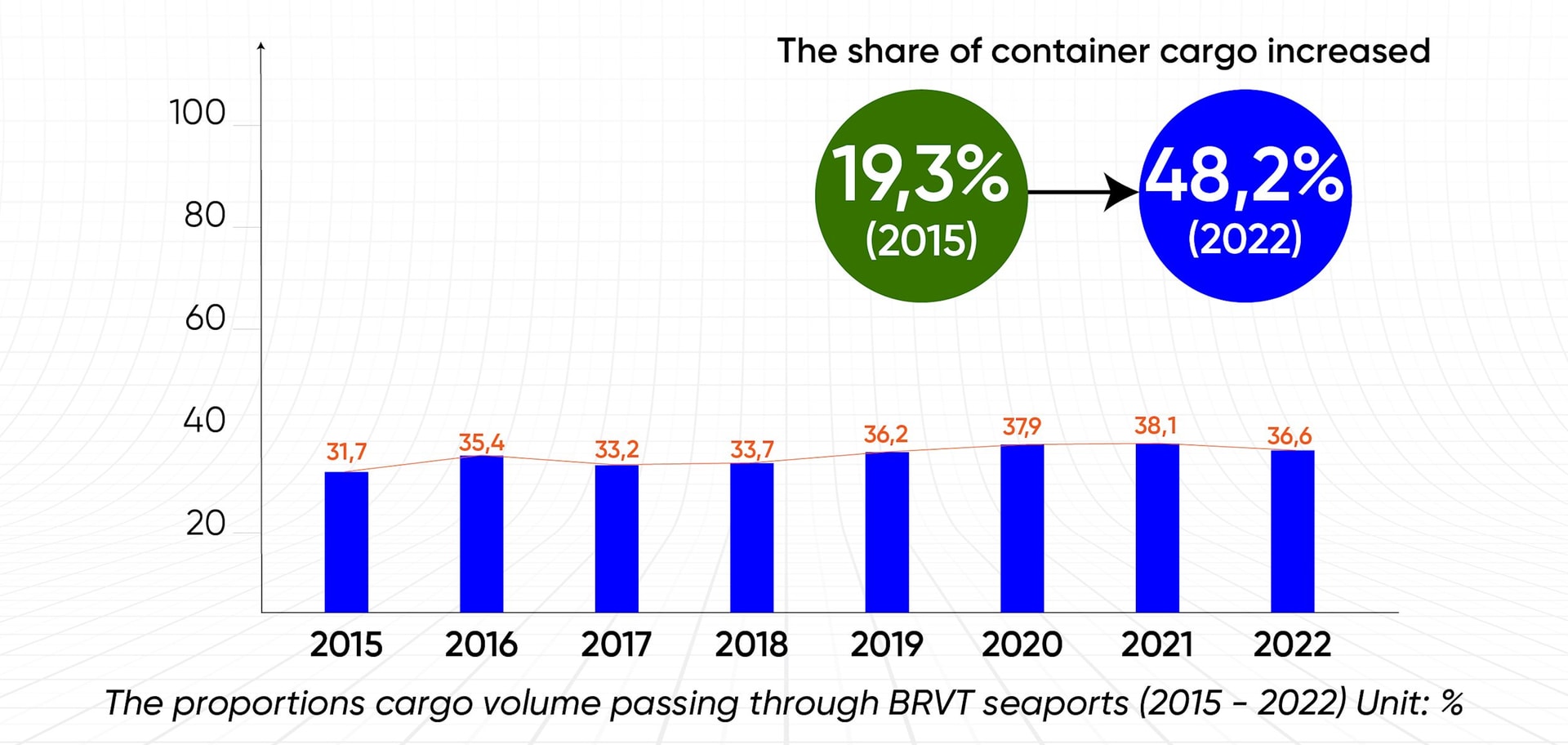 Additionally, the fishing and seafood processing industry is also one of the strengths in the coastal economic development of Ba Ria - Vung Tau province. With 5 out of 8 coastal districts and a relatively large number of fishing vessels, in recent years, BRVT has been focusing on investing in the development and upgrading of fishing ports in the area.
Regarding coastal tourism, the province is home to three nationally and globally renowned coastal tourism areas: Vung Tau, Long Hai, and Con Dao. These destinations attract millions of domestic and international visitors each year. Especially, Con Dao stands out as an island with preserved natural ecosystems, unspoiled beauty, and a rich revolutionary history. Therefore, BRVT has been mobilizing resources to develop Con Dao into a distinctive national and international tourist destination.

With the aim of green development, the 7th Party Congress of BRVT for the 2020-2025 term has set clear objectives with three breakthrough tasks and nine key tasks for focused leadership and implementation. The province is determined to continue developing into a strong region in terms of industry, seaports, logistics, tourism, and high-tech agriculture.
Accordingly, BRVT will build and implement a development strategy, positioning the province's tourism brand to enhance its quality on the domestic and international tourism map. The focus will be on investing in multi-modal transportation infrastructure, regional and interregional connectivity, and forming a logistics ecosystem to truly make the Cai Mep - Thi Vai port cluster a major international cargo transshipment port. The province will also study, deploy, and attract investments in specialized international passenger ports to stimulate tourism development.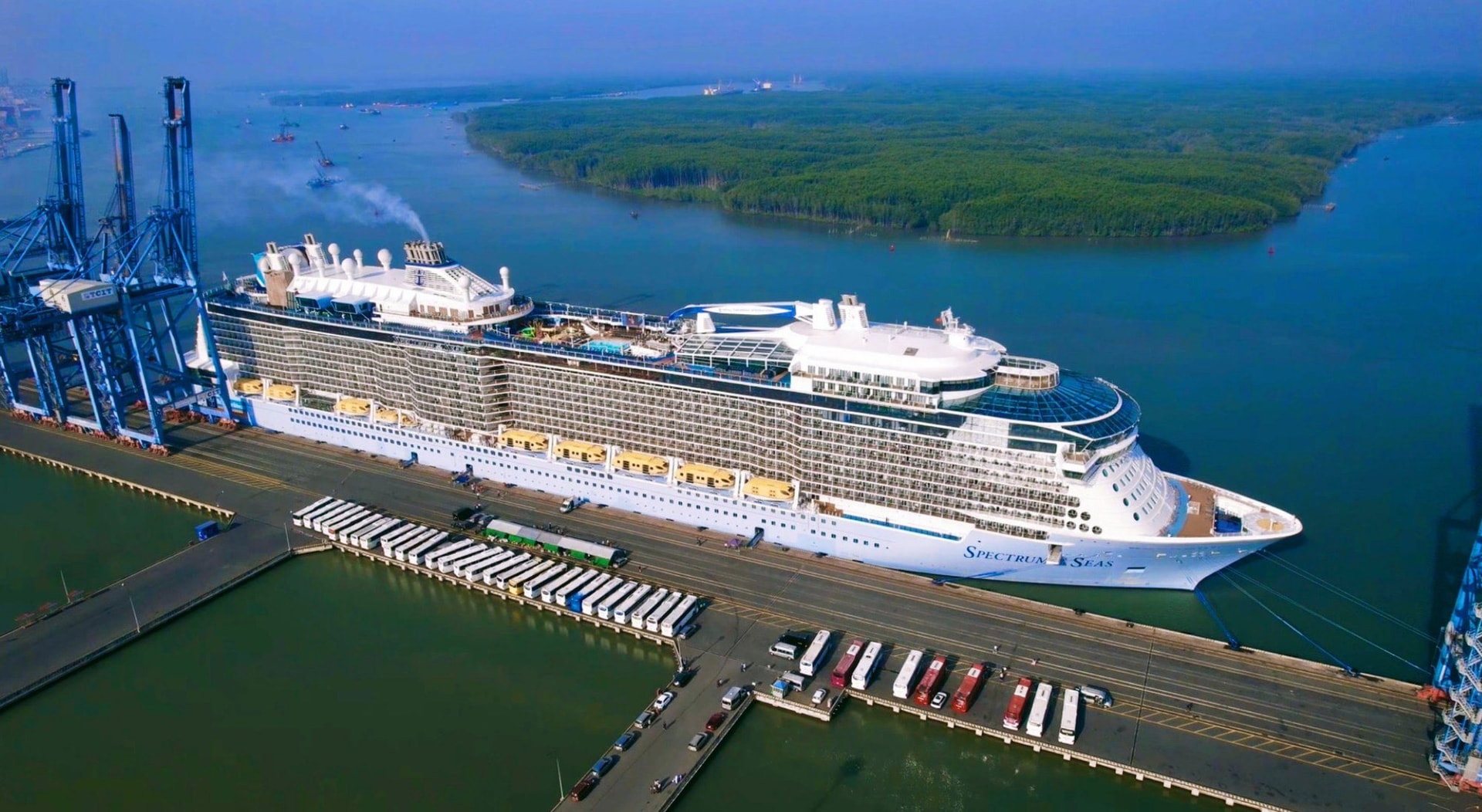 Furthermore, BRVT is committed to ensuring that the development of its coastal economy is sustainable, based on the rational and effective management, exploitation, and use of marine and island resources, in alignment with strategic planning and socio-economic development objectives, national sovereignty protection, defense, and security.
The province will also strengthen environmental protection, biodiversity conservation, and sustainable development of marine biodiversity. BRVT will proactively respond to climate change, rising sea levels, and natural disasters, mobilize resources, and encourage economic actors to invest in sustainable coastal development. Additionally, the province will ensure national defense and security while expanding international cooperation.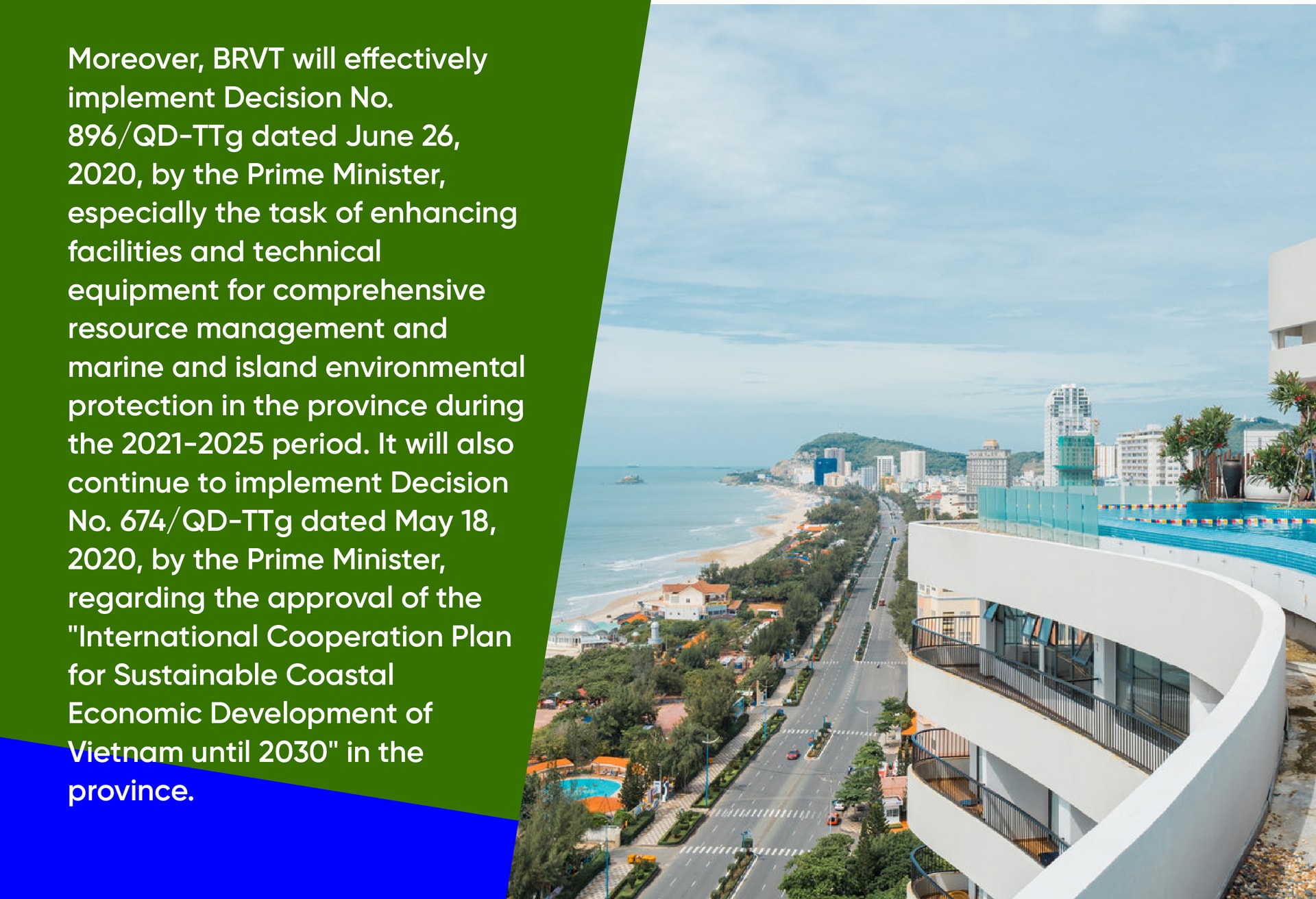 The overarching spirit of Ba Ria - Vung Tau (BRVT) is to develop its coastal economy based on sustainable development, protecting marine ecosystems, and complying with international standards. The province focuses on sustainable exploitation of marine resources, especially prioritizing the restoration of depleted marine ecosystems and promoting marine biodiversity.
BRVT is committed to enhancing its capacity for forecasting and warning natural disasters, earthquakes, tsunamis, climate change, and rising sea levels. It aims to prevent, control, and significantly reduce marine environmental pollution. Localities are encouraged to launch campaigns to minimize plastic waste in the ocean.
In line with this understanding, BRVT has established an action plan that combines the development of coastal economic sectors with ensuring national defense, security, sovereignty protection over the sea, islands, resources, and marine environment. The province also emphasizes disaster prevention, search and rescue, adaptation to climate change, and improving the lives of the people, especially those living in coastal and island regions.