There is a general agreement that tourism expands more when there are better transportation systems. Transportation needs for tourism promotion and tourism development among others, to be the maintenance of the existing roads, construction of more roads, and transportation (PrinceMdusmMSc, 2016). Tourism development require transportation development between attractions, cities, countries. Regarding Ho Chi Minh city, the Hop-on-Hop-off bus circulates around Saigon (another way to address Ho Chi Minh city) carries tourists to the city's well-known attractions within the route. Tourism and travel are co-dependent; and the role of transportation in its operation is vital. It could be comprehended as the tourist sites are more crowded and the bus is also promoted due to the existence of the destinations throughout the circulated route. It is a win-win situation.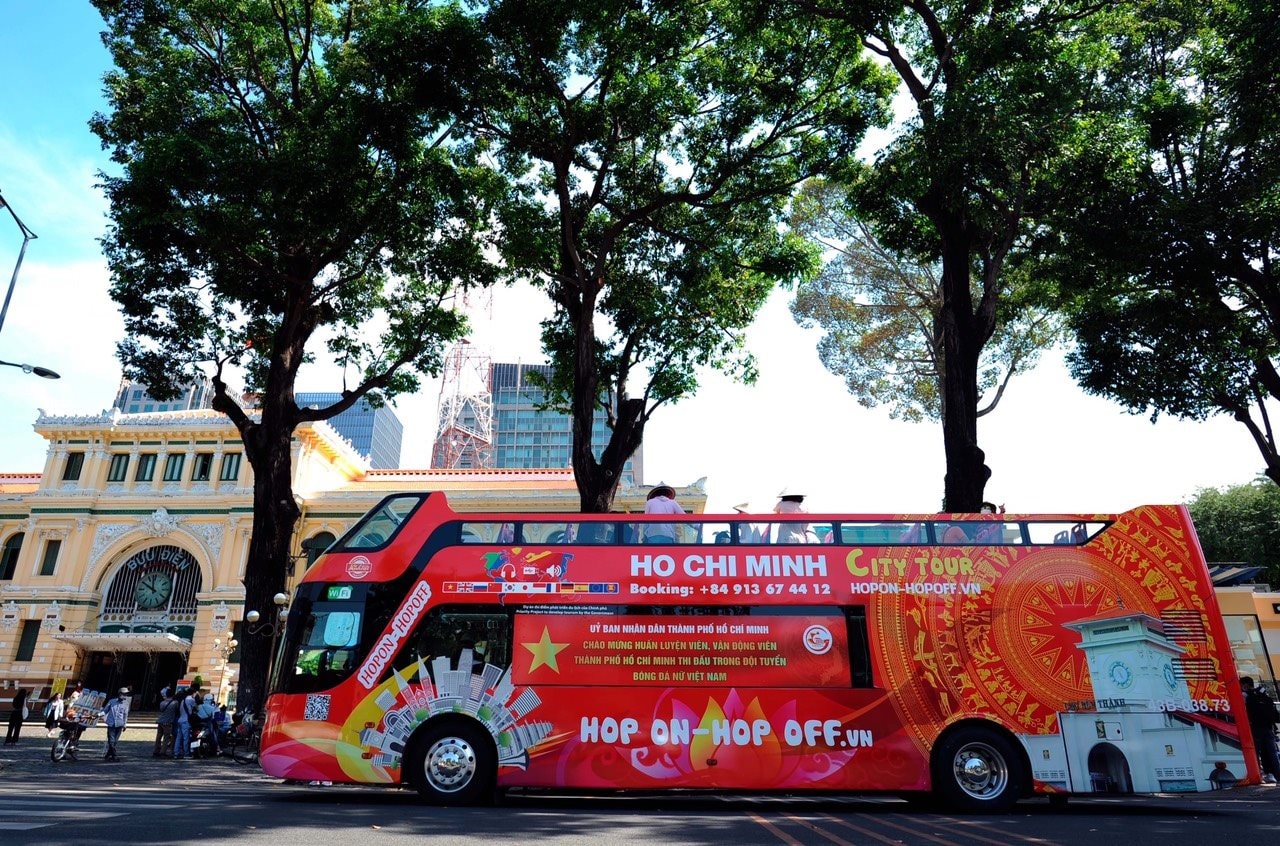 The most well-known brand providing Hop-on-Hop-off service is City Sightseeing, providing an open-top bus, boat, and guided walking tour. Established in the late of 1920s, this global brand has operated hop-on hop-off services in over 100 cities of more than 35 countries. They continue to expand and extend this type of tourism and becoming the leading Destination Experiences Supplier across 5 continents which includes key cities such as London, Rome, New York, Edinburgh and Singapore (City Sightseeing Worldwide, 2020).
Hop-on-Hop-off services provided around the globe are varied in terms of ticketing options, the number of languages, time limit, routes, destinations, means of transportations, live guides, etc. in many cities, most common is the variety in time limit such as 1-hour, 4-hour, 24-hour, 48-hour ticket with more than 15 stops within the route.
Hop-on-Hop-off's system in Vietnam, Singapore, Thailand, England, and Germany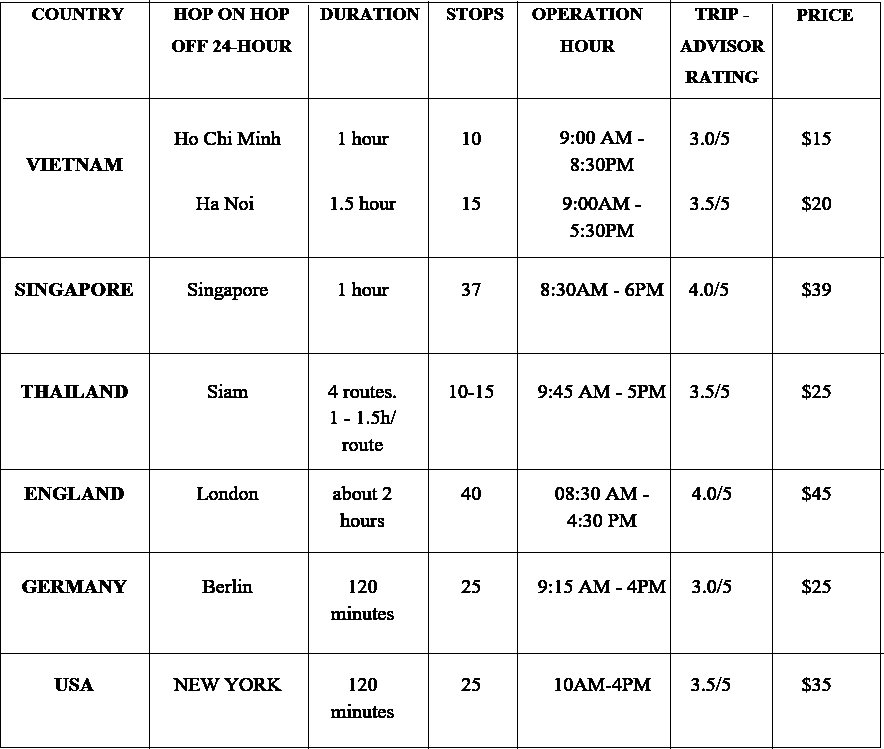 Tourism development requires transportation development between attractions, cities, countries.
In Ho Chi Minh City, Vietnam, the available options for products are quite narrow. There are only 2 types of tickets: Adult and kid for the 24-hour ride, adult and kid for 1-hour ride, counting from the moment the ticket is used on the bus. Furthermore, the stops' locations are more limited compared to other Hop-on-Hop-off business in foreign countries.
Anh Viet Hop-on-Hop-off Vietnam is a tourism business, which operates the red open-top sightseeing bus tours in Vietnam, following the pattern of City Sightseeing Worldwide. Besides the full of attractions on the bus route, the commentary is pre-recorded with 8 languages. The ticket for the tour is paid once and there is no additional charge for boarding on the bus again and again within the time limit printed on it. Anh Viet Hop-on-Hop-off Vietnam's open-top bus tour was first introduced with 13 stops in Ha Noi, Vietnam in 2018. Two years later, the open-top bus was first exposed to Ho Chi Minh city with 9 stops on the route. Anh Viet Hop-on-Hop-off Vietnam is the sole distributor of this type of service in Ho Chi Minh city without rivals in this type of service in 2020 and 2021. It could be said this means of transport is still new in Vietnam, even though after the first publication of the two bus tours in both cities received quite an amount of attention from local communities (Esperantour, 2018 and Ngo Binh, 2020).
The study is only limited to the Hop-on-Hop-off service in Ho Chi Minh City area. Ho Chi Minh City, also known as Saigon is the most bustling city center of commerce and culture in Vietnam. Ho Chi Minh City has been presented among 15 of the best budget destinations around the world, according to a list released by Conservative Daily News.
The participants in the study are touriststourists who make payment to book Ho Chi Minh city Hop-on-Hop-off service from Anh Viet Hop-on-Hop-off Vietnam.
The survey was conducted from 1 October to 30 November in the year of 2020, which is known for the year of covid outbreak. Therefore, there happened to be hesitance to travel among the people, even within the Ho Chi Minh city itself. As a result, the customer limited their contact as much as possible during their experience, leading to the limited participants. A total of 250 questionnaires were distributed while 210 were returned completed, rate responding to 84 %. 210 questionnaires were completed by 96 male participants (45.7%%), 114 female participants (54.3%).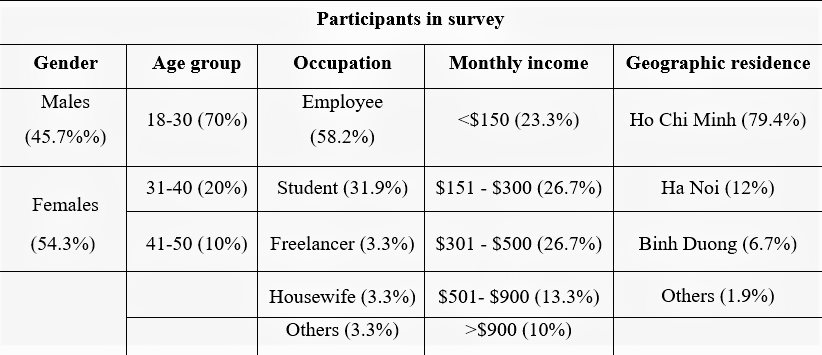 The questionnaires were distributed to the number of tourists who had made payment to use Hop on Hop off city tour. Participants were given 2 minutes to fill in the survey anonymously, and 254 responded.
Because not all survey was fully completed. 210 survey results were included in the analysis.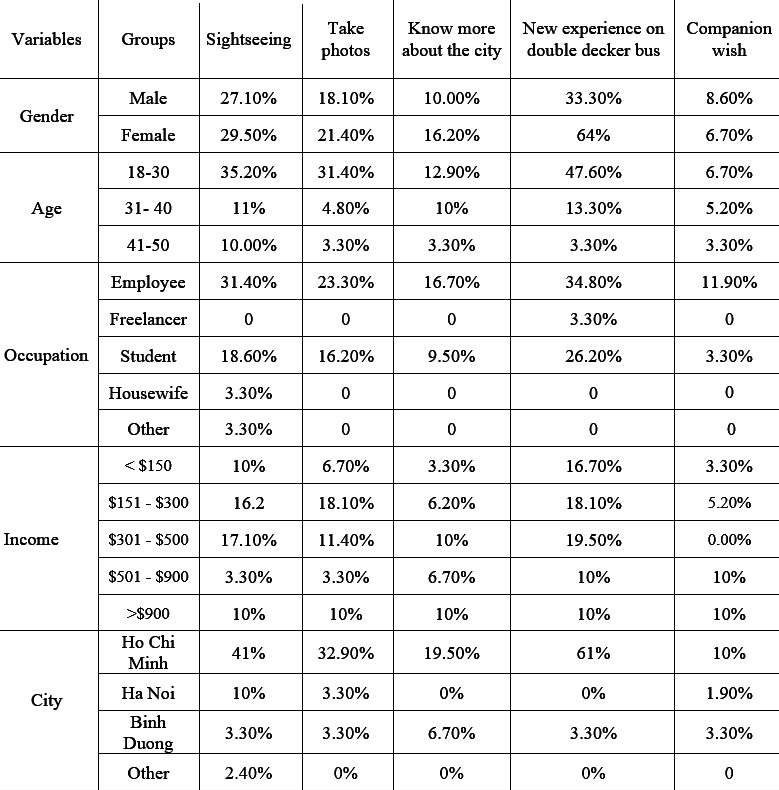 Women enjoy better leisure experiences and more positive time perspectives than men. Therefore, it is understandable that more female customers took the tour for new experience on an appealing red double decker bus which is newly introduced in the city.
As students and employees are people have their income through working or sponsorship, and have available time aside from their working or class hours. Their time for entertainment is short, so any activities in town can be a popular choice among their age. It is more possible for them to purchase the tour for a change of pace to relieve stress. Therefore, they are appealed to the new double decker bus in town without having to traveling far away to other cities to have their own fun.
The people who are from 18-30 years old are interested in sightseeing, having new experience and taking photos more than any other reasons. Since millennials are devoting less and less time to materials, and more time to personal experiences and deem them as prestige to share with others.
GDP of Ho Chi Minh dweller is 6000USD/ year and 456USD/month. It could be around 15USD/day or less for an individual in Ho Chi Minh City. For $300 as monthly income, the tour would cost a working day wage or more if the income is less. This could be considered not inexpensive. However, most of the customers are living in Ho Chi Minh city, which means this service is affordable for the monthly income above $150. Ho Chi Minh City is known as one of the highest GDP contributing cities; therefore, the price and the service duration can be adjusted to be more feasible to the general market, not only Ho Chi Minh City citizens.
The city tour service newly operates in Ho Chi Minh City; therefore, it is more accessible for the city dwellers to inquire more about the product than other cities. For the bus display right at the strategic locations such as Saigon Central Post Office and Nguyen Hue Walking Street, which many people gather around these areas. Most of the consumptions were made by Ho Chi Minh citizens. It is understandable that during Covid-19 restriction starting from March 2020, the frustration of not being able to travel had grown over time. After the social distancing was lifted, this new bus touring around the city serves as a recreational activity for people to relieve their stress within the coronavirus outbreak without traveling far.
Conclusion:

All 5 variables have strong correlation with the desire to have new experience on a double decker bus.
More females made purchase on this city tour. Their common features are employees or students within the age of 18-30; with monthly income from below $150 to $500, living and working in Ho Chi Minh City.

The personal factors, which significantly influence the most on the tourists' purchase decision on Hop-on-Hop-off service in Ho Chi Minh City, are age and income, following by geographic location of residence and occupation. The factor which shows the least influence in this test is gender; however, the number of males and females are significant regarding the new experience on double decker bus as the most popular reasons for the booking this city tour.
Recommendation:

The business could allocate more resources to promote public transportation which can save cost and time for tourists to use during the time they travel in Ho Chi Minh City. Furthermore, the service could be promoted to other regions around the city so they can learn about Ho Chi Minh City. The bus tour allows paying passengers unlimited travel for a day (or a period of time) with the freedom to board and leave the buses within their ticket's time limit at the different bus stops on the circular routes. This is called the Hop-on-Hop-off – A convenient and recognizable service.

With a capacity of 63 seats, double-decker buses that meet environmentally-friendly Euro 4 emission standards will ply the route. Access is easy for all, with a descending floor at the doors for old people, children, or those in wheelchairs. The bus is also equipped with free Wifi, USB charging ports, a refrigerator, CCTV, and an automatic card payment machine.
Reference:
Abrar Ali (2019), What is Hop on Hop off bus tours? What are their facilities?, July 8, Medium, Retrieve from: https://medium.com/@abraralima...
City Sightseeing Worldwide. (2020). City Sightseeing Worldwide Destination. June 20, City Sightseeing LTD, Retrieved from City Sightseeing Worldwide Website: https://city-sightseeing.com/en/destinations
Le Diem. (2018). Hop-on hop-off bus tour opens in Ha Noi, May 30. Retrieved from Vietnam Economics Times: http://vneconomictimes.com/article/biz-traveler/hop-on-hop-off-bus-tour-opens-in-Ha Noi