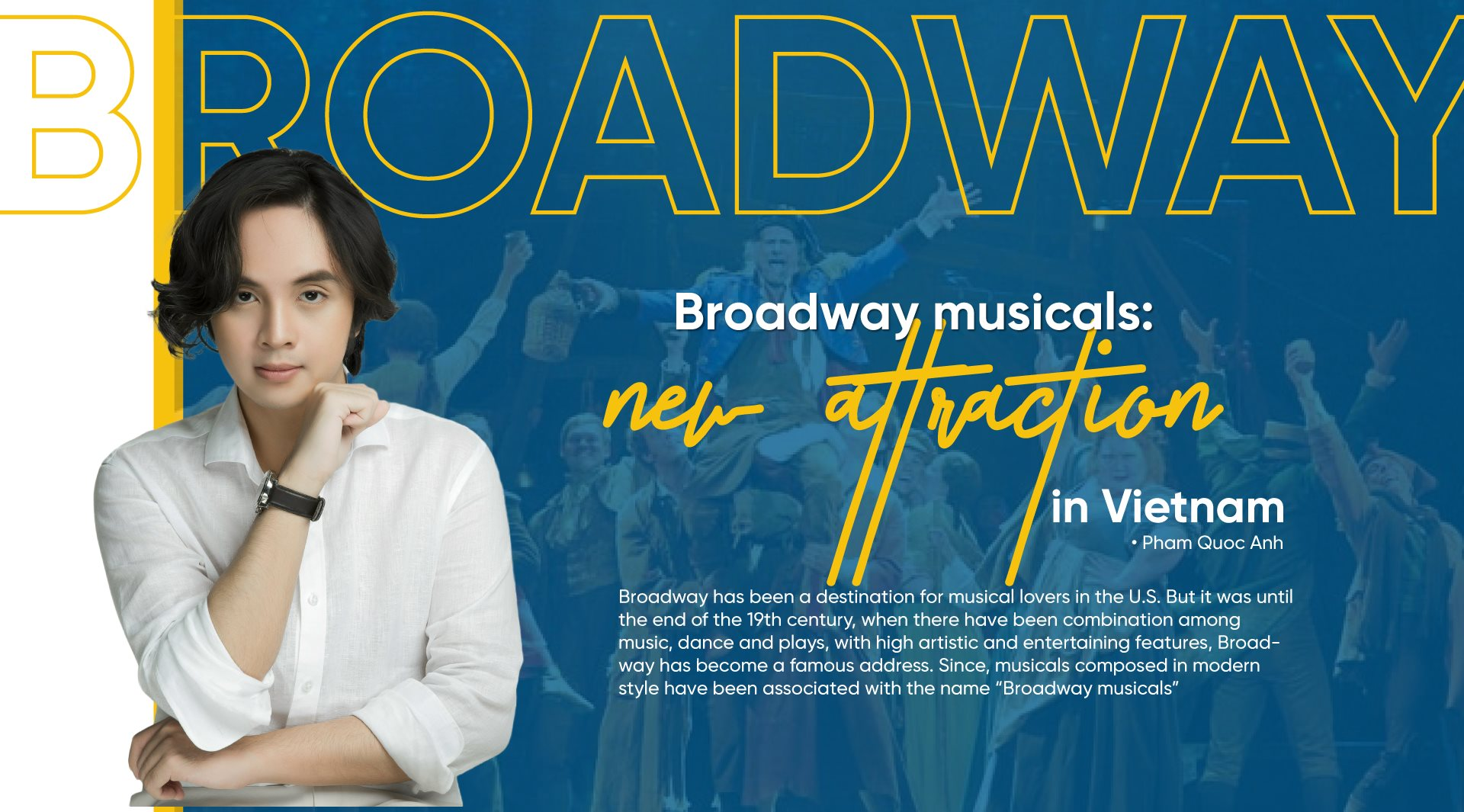 In recent years in Vietnam, many people started paying attention to the art form. However, people only have had certain affections, there have not been enough researches with a systematic and general view done to give out unified concepts for the musical genre that has been popular in many countries.
Through surveys of some music lovers and students… there have been ideas:" Broadway music means street music- the music for workers and Joe Public". And there have been other ideas:" Broadway music was derived from the folk songs and dances of black slave". According to Michael Parks Masterson (*)- a well-known American musicals actor:" Broadway is exactly the name of a street in New York City, located in the heart of the city's musical center. In the past two centuries, its 40 theaters has premiered thousands of musicals from around the world. Their commercial success has played an important role in the development of American musicals, giving life to a unique art form that blends entertainment with history and critique of social issues…"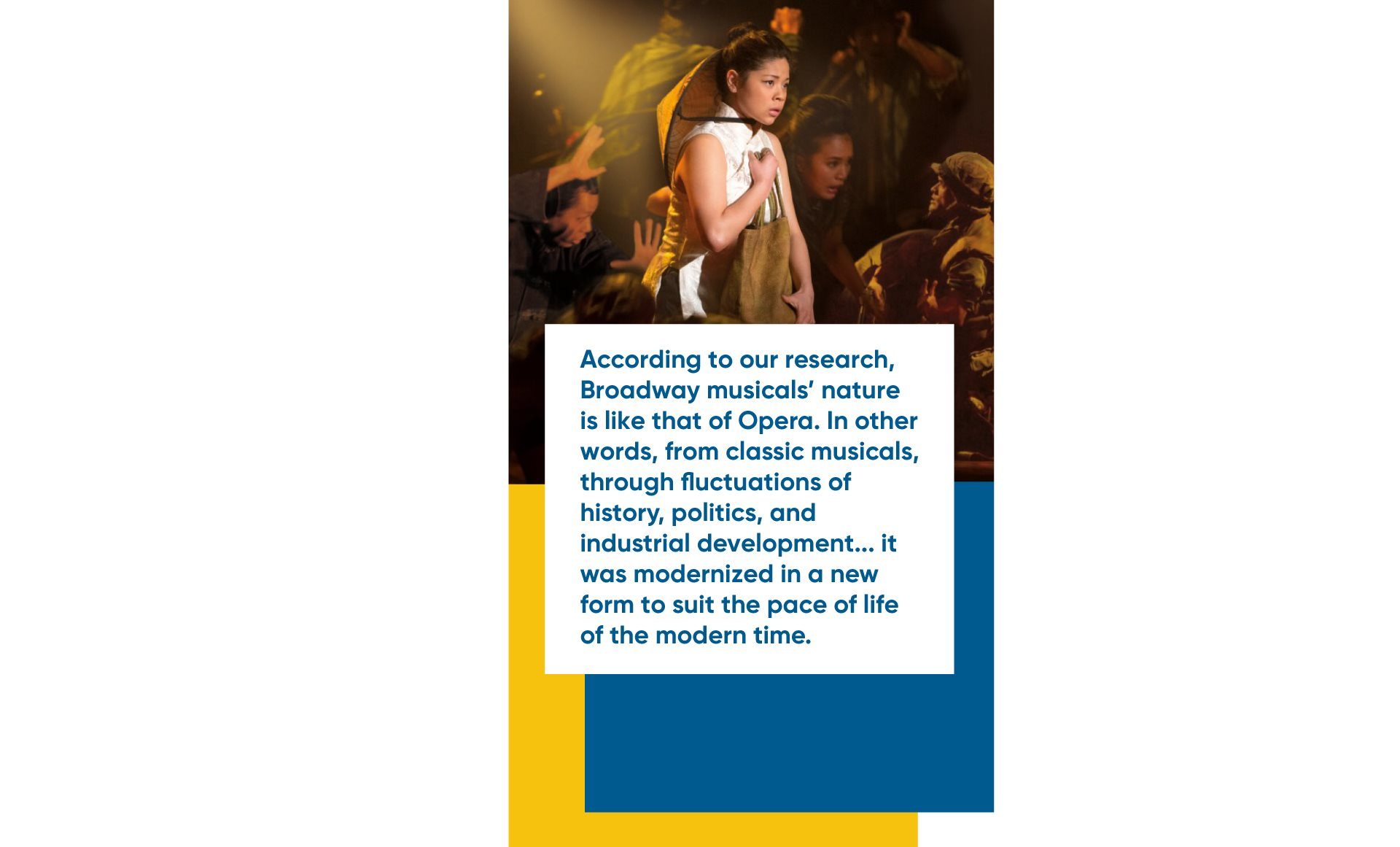 Broadway musical history is divided into many different periods with thousands of plays, songs and has made names for many world-famous artists. And, one of the famous modern musicals, staged in the last decades of the 20th century called "Miss Saigon" by the group of composers Claude-Michel Schonberg and Alain Boublil, lyrics by Richard Maltby, set in scene in Saigon, Vietnam in the 1970s. "Miss Saigon" first performed at the Broadway Theater on April 11, 1991, and as of November 28, 2001 (more than 10 years later) this play has been performed 4,092 times.
Currently, when it comes to musicals staged in a modern style, people often think of two major musical centers: Broadway (New York, the U.S) and West End (the U.K) and some developed countries in Europe, Asia... According to Michael Parks Masterson, he has been to over 30 countries as an actor, director and lecturer. When I enjoyed Broadway-style musicals composed in Asian countries as Japan, China, Thailand, Korea and Singapore, I find them quite interesting. Although they are in different languages, audience can find them having both Broadway features and their own countries' distinctive features as well," said Michael.

In our observation, there has been attention to Broadway-style musicals. First, British artist Brian Riedlinger with Broadway programs to Vietnam "Amie Get Your Gun" (2008), "A Christmas Carol"- A New Musical (2010); singer Duc Tuan with his Live Show "Music of the Night" and album of the same name in August, 2009; the week of Broadway music in the program "Global Dances" broadcast on VTV3; the program of cultural exchange performance by the U.S Embassy "Michael Parks Masterson Featuring Vietnamese Artists in Broadway in Vietnam"; "Chicago"- the musical, graduation work by the young director Nguyen Khac Duy- College of Stage Performance and Cinematics with four performance nights in HCMC Drama Theater (June 2013); "Goc Pho Danh Vong" (The Corner of Fame) and "Dem He Sau Cuoi " (The Last Summer Night) by young director Nguyen Phi Phi Anh (August 2013). In the following years, there were musicals by the group Buffalo, directed by Nguyen Khac Duy as "High School Musical", "Tuyet Saigon", "Vu nu" (Dancing Girls); Vietnamized world's musicals as "The Miserables", "Mamma Mia", "Cabaret" in the program "Broadway in Saigon". In 2016, there were pure Vietnamese musicals as "Tam Cam", "The Love Story of Giang Huong". In 2018, there were "The Adventure Diary of Cricket"- a musical based on the story of the same name by To Hoai; "The Bat", based on the work Operetta by J.Strauss II (Austria), both musicals were composed by HCMC's Ballet and Symphony Orchestra… The latest one was "Waves"- inspired by Xuan Quynh's life and poems composed by Tuoi Tre Theater and performed in March 2022; "Alice in Wonderland" performed at the beginning of October in Hanoi Theater…

From the point, we can hope that a new choice of Vietnamese people (especially young ones) will help improve spiritual lives and aesthetic tastes, which is encouraging. And if there are timely and proper directions, there will be days when Vietnam's musicals can have scales, values and attractions as Broadway musicals- those performed in Vietnamese language and suitable to Vietnamese culture and people in the time of globalization and integration.
(*) Cultural Ambassador of the United States Department of State. He went to Vietnam and had a talk with students, lecturers and directors at the HCMC Conservatory of Music with the theme "Michael Parks Masterson and Vietnamese artists with the program show - Broadway Vietnam"