Rattan and bamboo products go abroad
The Diem Village- a traditional craft  village- is located in the mountainous area of Chau Khe Commune, Con Cuong District, Nghe An. There are 153 household of ai and Dan Lai people living. With a little land for farming, people have been living on resources from the forests: rattan and met (a kind of local bamboo). Weaving art has been here for a long time. For many years, Thai people has created daily items as baskets, fans, rattan trays and back baskets.... Surplus products were exchanged for other necessities or sold in markets. Generally, profit from rattan and bamboo crafts were not remarkable.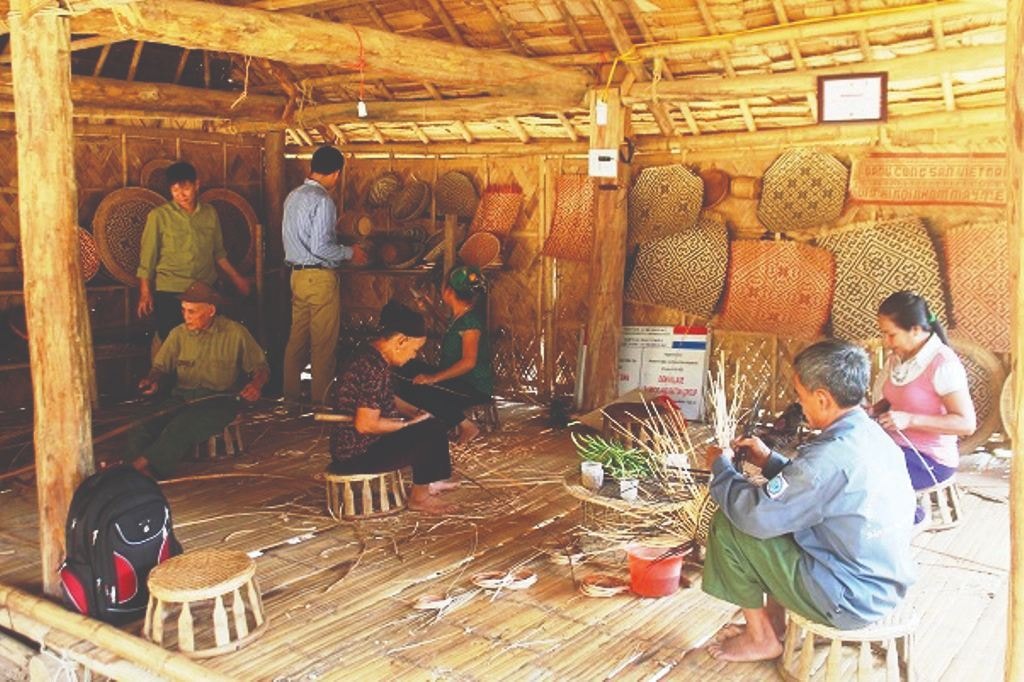 Products used to be sold in the region only while most people were self-sufficient. There were time the products could not be sold and backlogged. The weaving art in the village was once dying.
In 2016, implementing the restoration and development of traditional craft villages, Diem Village's Rattan and Bamboo Cooperative was established, with the guidance from authorities of all levels and people's effort- a step marking the striving of the traditional craft  village. And thanks to artisans' skills, qualified rattan and bamboo woven products have affirmed their positions in markets.
These products are sold at the prices of VND 30,000 to millions, depending on their size and type. With rich design, the products have affirmed their positions in markets and become well known.
From the production of purely household products, Diem Village's rattan and bamboo cooperative has produced souvenirs and decorative products to serve tourists. The members of the cooperative have constantly created new designs, patterns, textures, and unique colors on bamboo and rattan handicra products... As the result, from the poor village of Pu Mat forest, these products have been present at major domestic markets in Hanoi and HCMC. And then, they have been exported to Japan and to distant countries in Europe as Germany and France...
Currently, Diem Village's rattan and bamboo weaving cooperative has 5- 7 orders with hundreds products exported, which brings good income for people in the craft village and helps them feel secure with the work. Lang Thi Hoa- Director of the Cooperative said products exported sell at the prices of 3- 4 times higher. For example, a rice tray sold at VND 3 million domestically can be sold at VND 6-7 million when it is exported. erefore, members' income have been much better.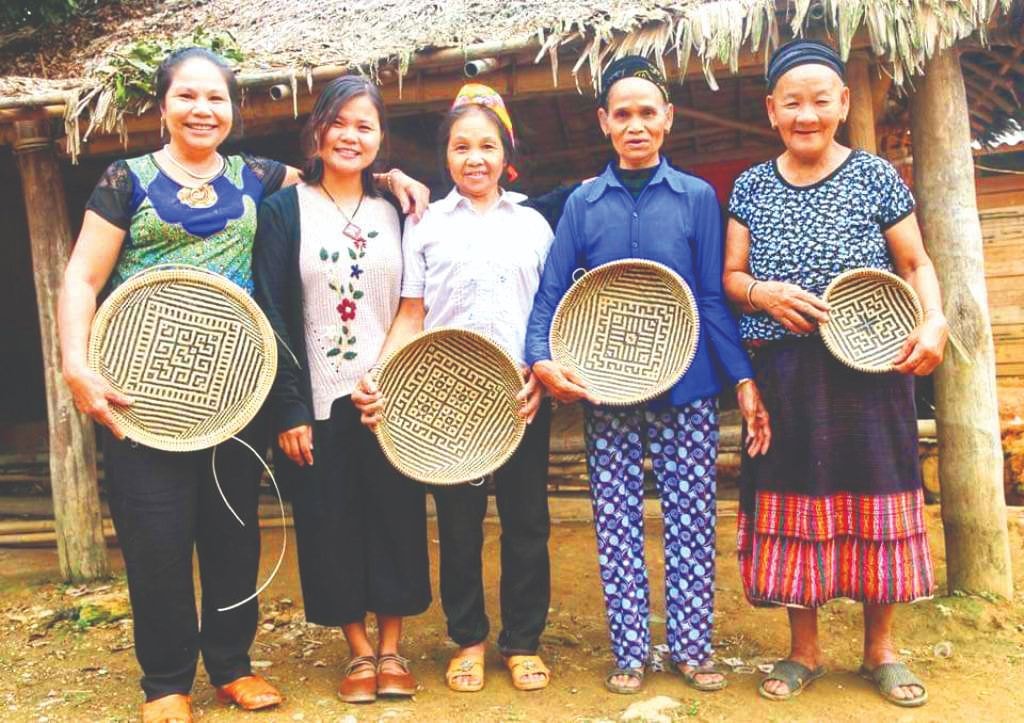 Maintaining the traditional craft
There have been 54 people from 52 households taking part in the production. Vy Thi Noi (73 years old) is one of the skilled and experienced weavers. Still skilfully performing weaving work, she said she learned weaving from her mother at the young age. She was skilful not only in rattan and bamboo weaving but also in brocade weaving.
"In the past, before getting married, ai girls had to embroider dresses, pillows, blankets and other items for themselves and for their loved ones. Therefore, every girl like her were skilful. Young ones now leave their home to work far away and few can do the art now," said Noi.
Noi also gave the idea to weave ai brocade patterns on rattan and bamboo woven products, which makes them more beautiful and introduces ai cultural features as well.
Members of the cooperative have also use natural materials in the forest to dye rattan and bamboo woven products. Products as fruits plates, rice trays and tea trays look more beautiful with the natural colors...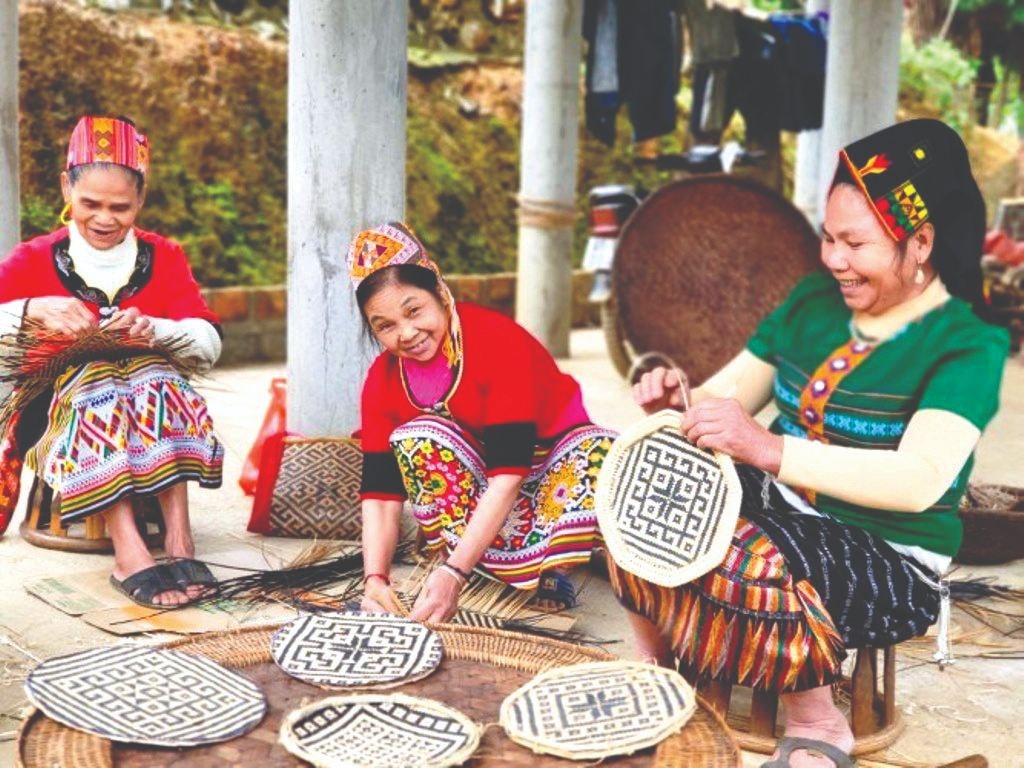 Rattan and bamboo products are environmentally friendly. It takes 2 or 3 days on average to complete a product at the price of VND 200-300.
Vi Van Quy - Vice Chairman of People's Committee of Con Cuong District said: Although the scale of the bamboo and rattan cooperative in Diem village is small, its products have had good consumption and attracted many potential customers. In addition, the United Nations Development Program (UNDP) and the National Office for Poverty Reduction have also created opportunities for the bamboo and rattan cooperative in Diem village to develop. In 2018, there were orders from abroad such as Germany, France, and Japan... Thereby it helps creating stable output, making people feel secure with their works.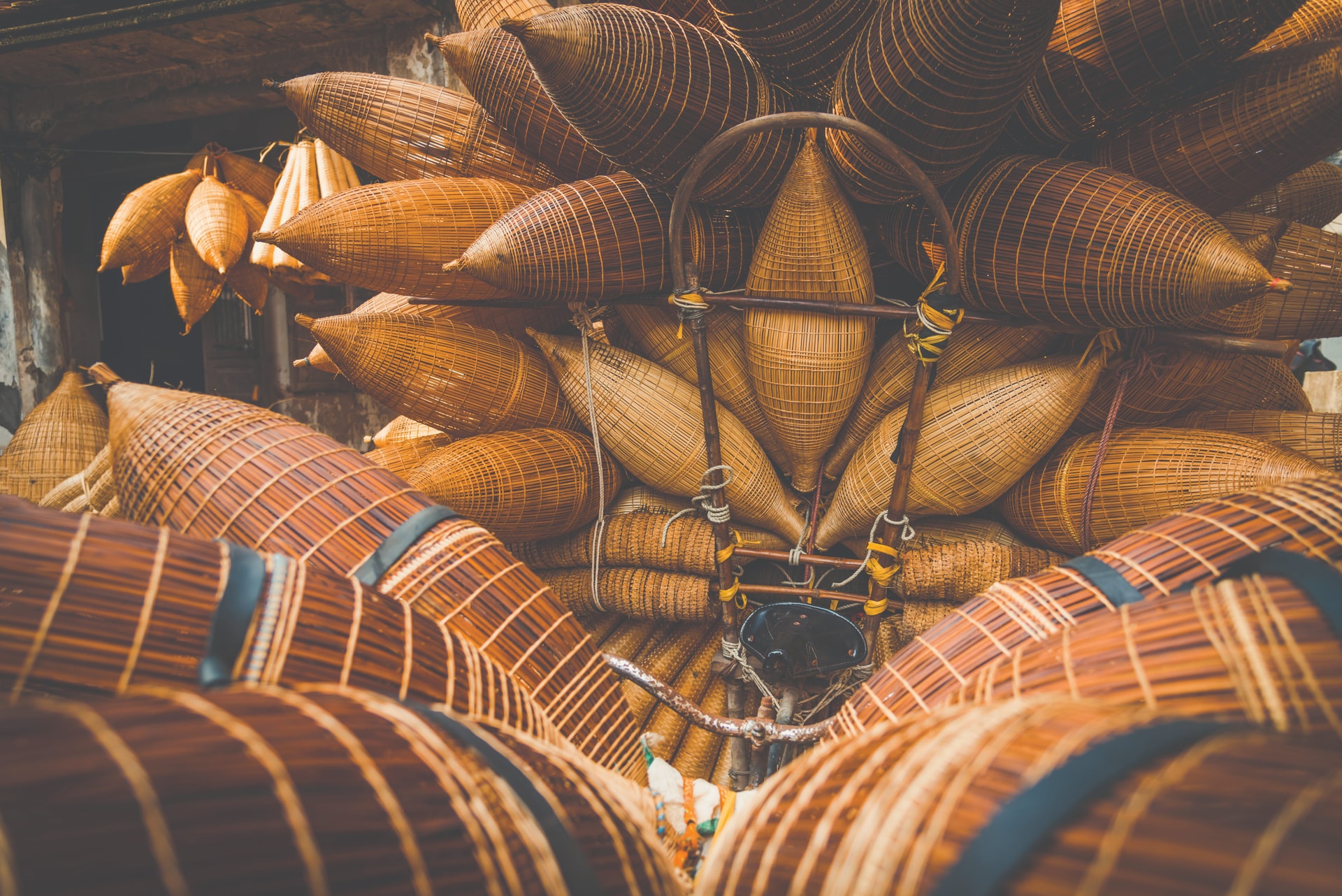 Quy said Con Cuong has its material advantages to develop the weaving art in the village. In the coming time, the local authorities will facilitate loans for small and medium sized businesses and together with local people making the products o cial exported ones.
"However, how to meet orders is now the biggest difficulties. Most people working in the craft village are elderly women, who do the weaving in time of leisure time only. The shortage of young labor source is an obstacle to the expansion of the cooperative scale. The district is expanding vocational training to attract more laborers and to improve product quality for more income to local people," added Quy.