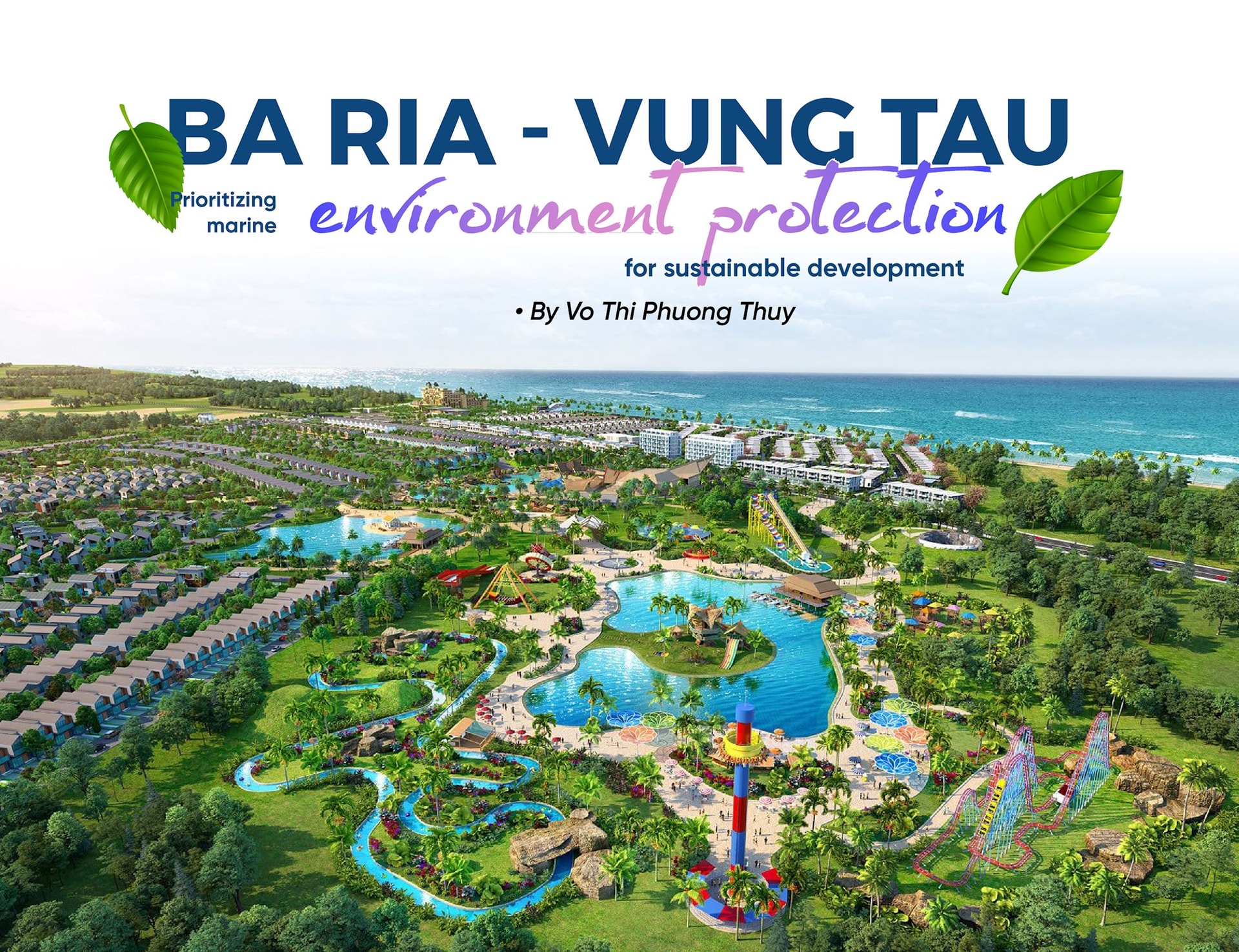 The marine environment in BRVT, much like coastal areas nationwide, is increasingly facing severe pollution and degradation. Locations like Bai Truoc, Bai Sau, and Ho Tram Beach (in Phuoc Thuan commune, Xuyen Moc district) witness a high influx of tourists during weekends and holidays. Due to the lack of awareness about waste disposal among tourists and locals alike, all sorts of waste, from plastic bags, fishing gear, and seafood remains to leftover food and drinks, are left strewn across the beach rather than being properly collected in designated bins. Apart from tourist-generated waste, areas like Long Hai town's beaches are burdened with waste from seafood trading activities and household garbage, directly discarded into the sea. The Long Hai fishing port area is surrounded by approximately 100 fish farms, where local residents live closely by the sea. All types of waste are simply thrown into the sea to be carried away by the waves, leading to significant environmental pollution.
BRVT's coastal areas also contend with a substantial amount of waste washing in from other regions, contributing to worsening pollution. On some days, locations like Bai Truoc and Bai Dua have to deal with tens of tons of various waste materials like logs, seaweed, and other debris.
In other words, the marine environment of BRVT is under "attack."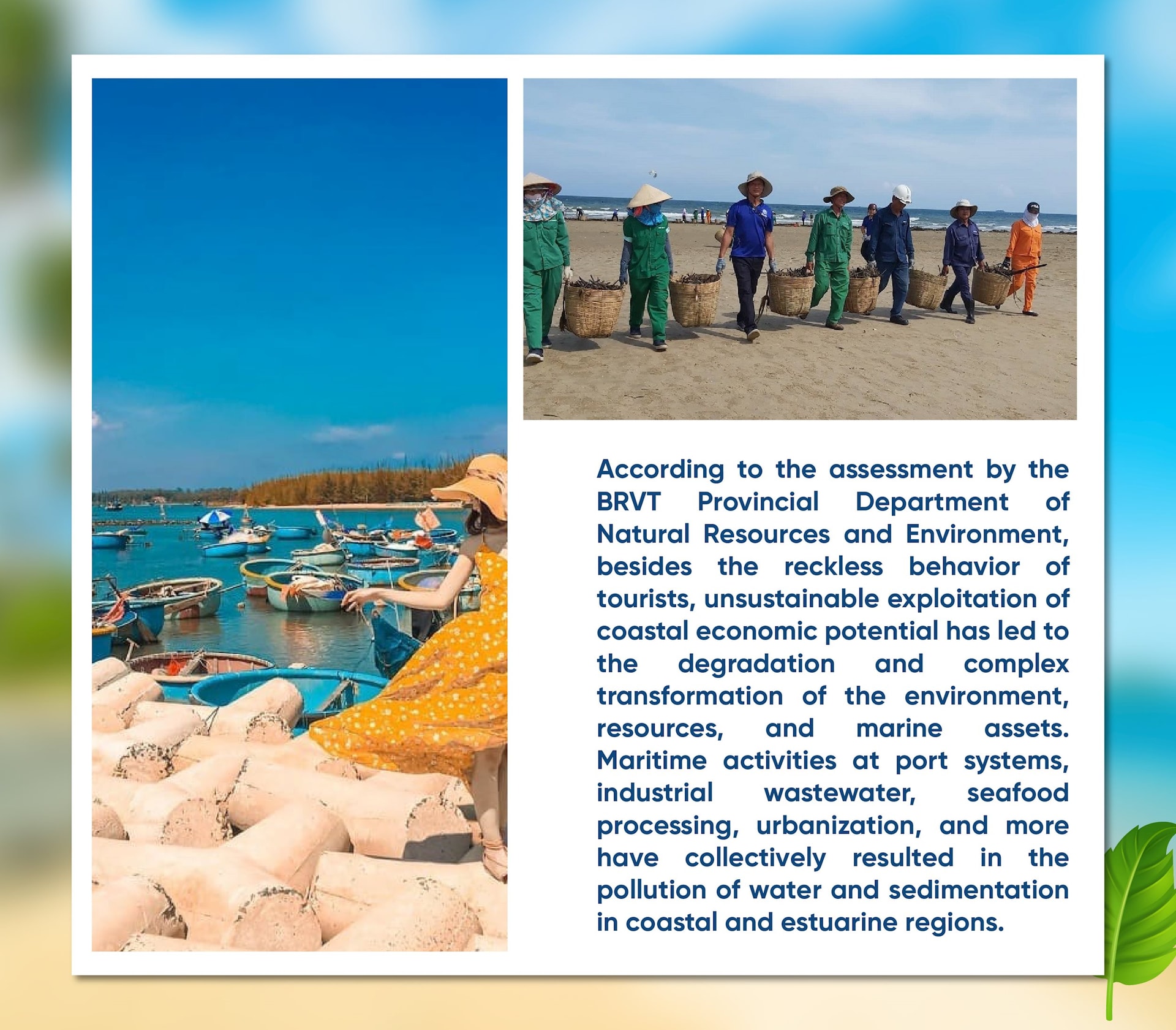 Moreover, the destruction of mangrove forests along the coast has disrupted the natural balance. Unauthorized coastal development for architectural, tourism, service, and business purposes in various locations has caused changes in topography, altered water flows, caused sedimentation, and erosion in estuaries and coastal areas. Salinization and alkalinization have contaminated water sources, disrupting the natural coastal ecosystem balance.
Notably, recently, due to the impacts of climate change, the severity of coastal erosion in many areas within the province has escalated, causing significant economic and social damage. According to assessments by relevant authorities, coastal erosion in BRVT has been rapidly progressing at a rate of around 2 meters per year in the past 15 years, now reaching 30 meters per year, primarily driven by the effects of climate change.

According to the Provincial Department of Natural Resources and Environment, they have taken proactive measures to closely monitor investment projects in coastal areas that pose a high risk of environmental pollution. They prevent environmental pollution incidents and provide guidance to localities on the collection and treatment of hazardous waste and solid household waste in accordance with environmental standards.
Furthermore, the Provincial Department of Natural Resources and Environment of BRVT has enhanced coordination with various departments, sectors, and localities to review, supplement, and develop comprehensive plans related to seas and islands, aligned with ecosystem requirements. This ensures harmonious integration between conservation and development of the mainland, coastal areas, seas, and islands. The department has also initiated environmental monitoring and pollution tracking in the marine environment, launched campaigns like "Clean the Sea," and introduced initiatives like "Green Saturdays" to encourage local residents to engage in protecting the marine environment.
According to the Provincial Department of Natural Resources and Environment, they have collaborated with relevant departments and agencies to implement solutions aimed at improving and addressing pollution in environmental "hotspots" within the province.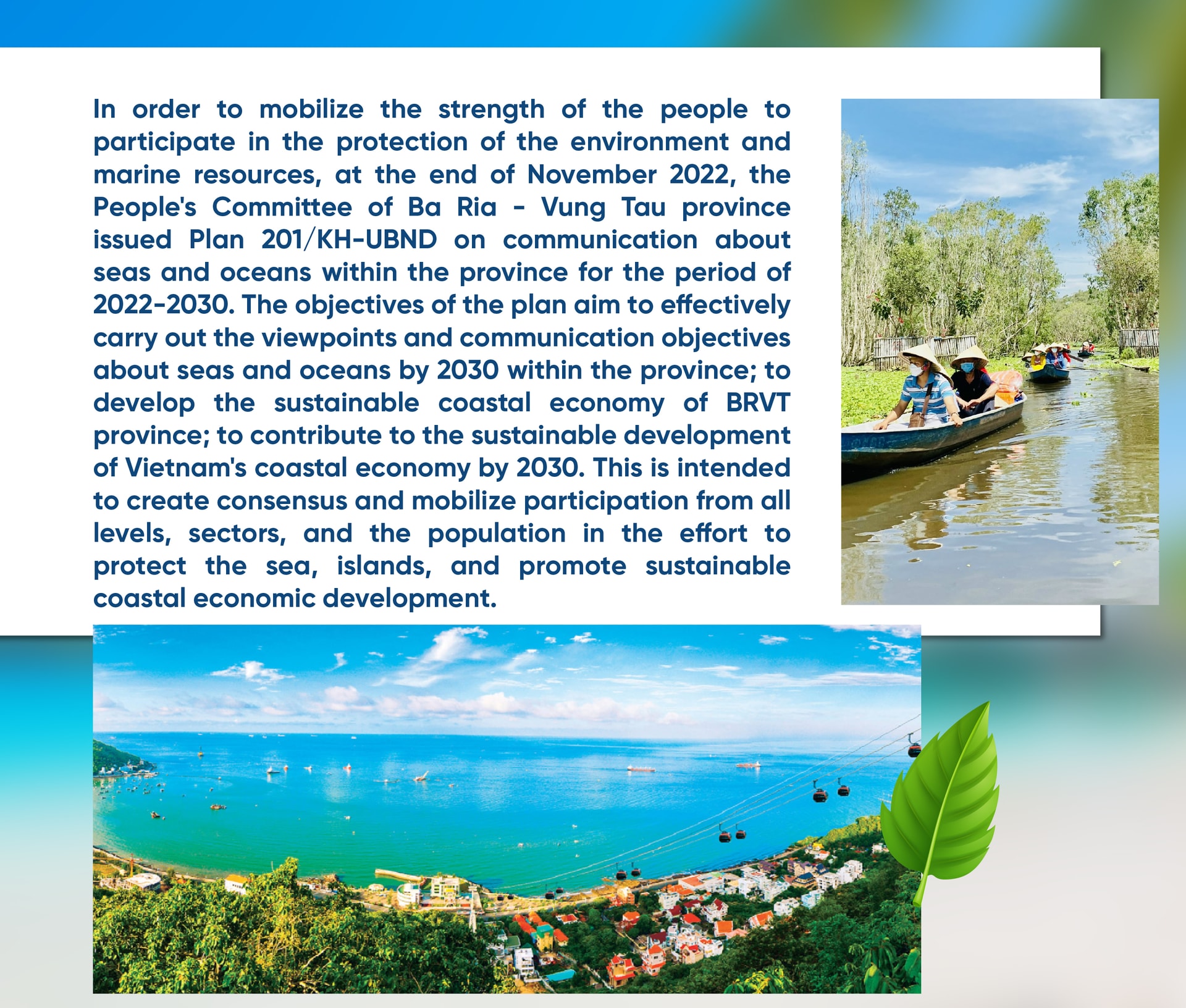 Annually, during World Oceans Day (June 8) and the Vietnam Seas and Islands Week (from June 1 to June 8), activities are carried out province-wide with meaningful content, garnering broad participation from the political system, community organizations, and the general public.
Moreover, BRVT province has also established an appropriate waste treatment system, especially investing in improving wastewater treatment systems at individual units before they are integrated into the overall waste disposal system of the region. They conduct surveys and assess the environmental impact of the entire aquaculture planning area to determine the environmental carrying capacity, and accordingly adjust the scale to minimize the sources of water pollution.
Additionally, the Provincial Department of Natural Resources and Environment collaborates with various departments and agencies to monitor and inspect industrial, petroleum, and maritime activities. Consequently, projects within the province are not allowed to start construction without prior consideration, review, and approval of environmental impact assessment reports.
According to various governmental departments, plastic waste pollution (referred to as "white pollution"), especially plastic waste in the oceans, has become a global and urgent issue. BRVT is one of the 28 coastal provinces and cities heavily affected by the problem of ocean plastic waste. To reduce ocean plastic waste, effective management through legislation and communication to the public is crucial. Environmental experts suggest that the most sustainable solution is to promote the reuse, recycling, treatment, and development of a circular economy model for plastic waste.
BRVT is actively pursuing digital transformation and circular economy initiatives in the region. The local government has taken steps towards digital transformation in their communication about seas and islands, including environmental protection efforts.