Comprehensive Development of VLA
VLA, operating in the fields of trade, transportation, warehousing, and logistics services according to commercial law, has experienced significant growth in both quantity and quality over its 30-year history, as emphasized by Chairman Le Duy Hiep. The association has been dedicated to protecting the legitimate rights of its members, both domestically and internationally.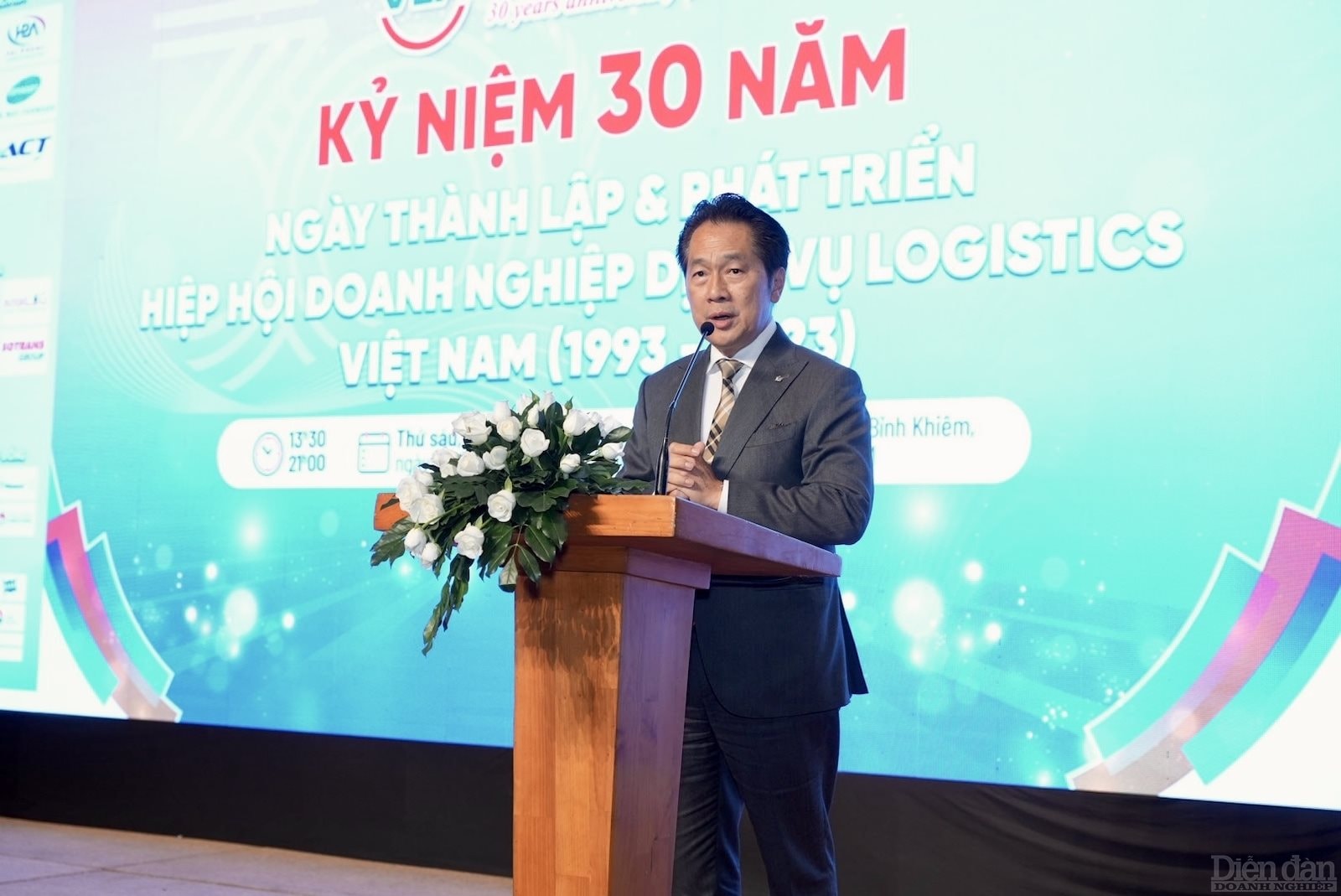 Throughout its three-decade existence, VLA has consistently pursued its mission to connect and collaborate with transport and logistics providers domestically and internationally. With a vision to enhance professionalism, develop modern logistics, and contribute effectively to the country's economic development, VLA places great importance on the role of professional logistics connections and business activities of its members under the association's Standard Trading Conditions (STC).
Chairman Le Duy Hiep stated, "With that purpose, the association has grown rapidly in both quantity and quality of activities, genuinely protecting the legitimate rights of members, both domestically and internationally."
Established with 7 members, primarily state-owned enterprises, VLA has grown to 745 members by October 2023, including 601 official members, 134 affiliated members, and 102 members representing foreign-invested enterprises. VLA has successfully brought together most of Vietnam's major logistics service providers as association members. Since May 1994, VLA has been a member and the sole representative of Vietnam at the International Federation of Freight Forwarders Associations (FIATA). It is also an official member of the Vietnam Chamber of Commerce and Industry (VCCI) since April 1994 and a member of the ASEAN Federation of Forwarders Associations (AFFA) since November 1999.
VLA, serving as a bridge between Vietnam's logistics service providers and association members with state management agencies, has contributed to the overall socio-economic development and the logistics service industry of the country. The association plays a crucial role in advancing Vietnam's logistics service industry as a key link between production, import-export, and investments.
Expressing gratitude on behalf of the association, Chairman Le Duy Hiep thanked the effective support from the government, relevant ministries, and the collaborative efforts of industry associations in the past. He expressed hope that the association would continue to receive more support in the future.
Recognizing VLA's contributions over the three decades, Tran Thanh Hai, Deputy Director of the Import-Export Department at the Ministry of Industry and Trade, highlighted the association's close connection with the country's economic opening process. He emphasized the significant role of the logistics industry, particularly in the last ten years, both nationally and internationally.
With over 700 members, including major enterprises contributing to all aspects of Vietnam's logistics industry, VLA has become a representative voice for the national logistics association, especially during disruptions caused by the Covid-19 pandemic. The association has actively spoken on behalf of Vietnam's logistics enterprises in the international arena.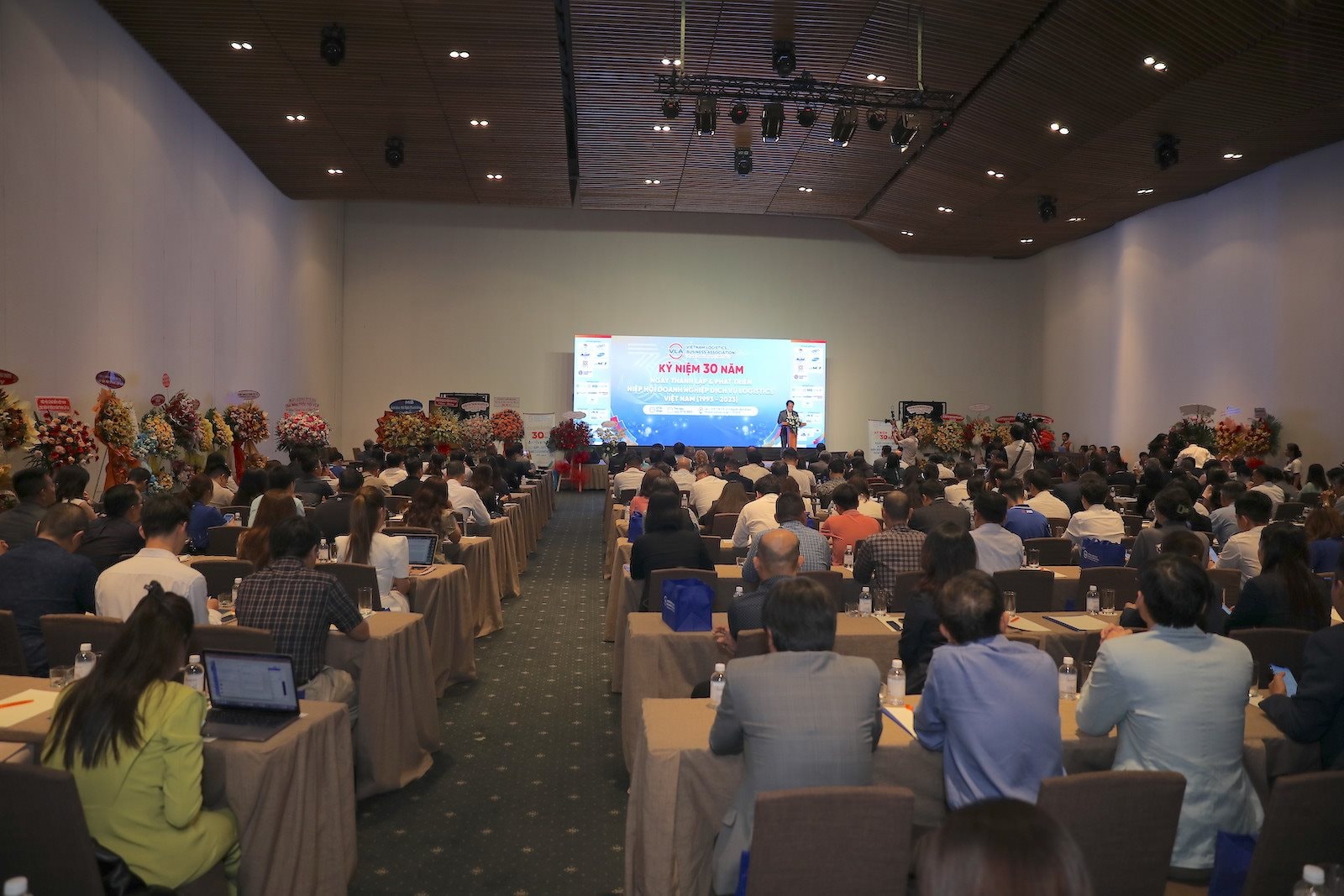 VLA has undertaken various focal activities, actively contributing to policy improvement. Deputy Director Hai commended VLA's impressive development, stating, "We have the right to be proud of the journey we have taken."
Notably, VLA has been a member of the International Federation of Freight Forwarders Associations (FIATA) since its early days. FIATA President Turgut Erkeskin affirmed that VLA has been an active member contributing to the federation's development and supporting the connection of member enterprises globally.
"Over the 30 years, VLA has achieved many remarkable milestones and demonstrated its leadership role in the logistics industry in Vietnam. I believe VLA will continue to achieve more success in the future. Personally, and on behalf of FIATA, we look forward to accompanying VLA at the Fiata World Congress 2025 in Hanoi, Vietnam," stated FIATA President Turgut Erkeskin.
Connecting Value Chains in the New Phase
In addition to highlighting achievements, Deputy Director Tran Thanh Hai also emphasized various favorable factors and challenges for the association's future development. Firstly, the support from the state for the industry's growth is evident. This is an opportune moment to formulate a logistics industry development strategy. The current logistics infrastructure is relatively conducive to the growth of VLA member businesses.
Moreover, the shift in the supply chain is creating opportunities for Vietnamese logistics enterprises. Despite global economic challenges, Vietnam's trade and production continue to thrive, ensuring sustained growth in the foreseeable future.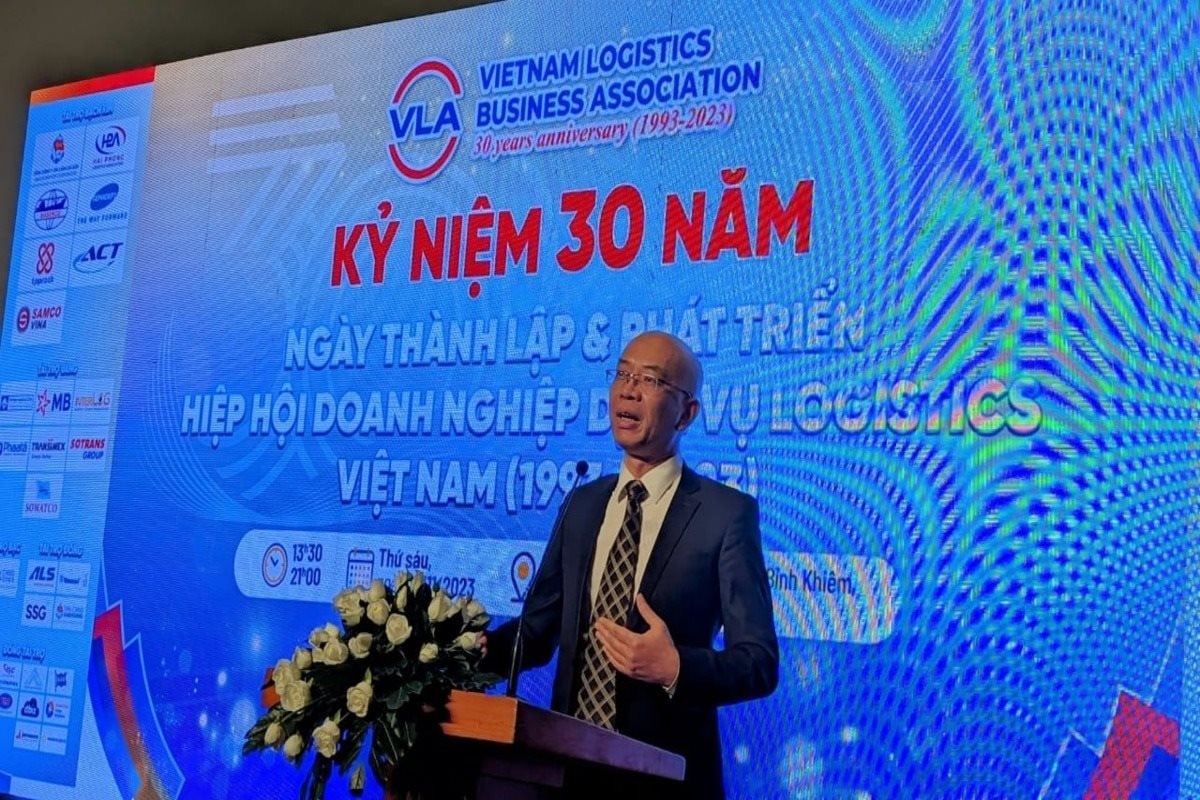 He also candidly pointed out the challenges for VLA member businesses, such as intense market competition and disruptions in the supply chain, affecting the flow of goods and introducing new issues.
Therefore, Mr. Tran Thanh Hai suggested that VLA should continue to contribute proactively, provide input for policy improvement, and advise on practical and emerging issues.
For member businesses, given the increasing diversity in logistics activities and emerging trends, the role of VLA in guiding, supporting, and advising its members is crucial.
"We must accept competition when we open up. We call on businesses to boldly expand globally. This is what I hope the VLA leadership will guide its members towards," emphasized Mr. Tran Thanh Hai.
Acknowledging the significant support from state management agencies and the logistics business community for VLA's activities, Mr. Vo Tan Thanh, Deputy Chairman of the Vietnam Chamber of Commerce and Industry (VCCI), proposed solutions to connect VLA with key industries. This aims to create opportunities for logistics businesses, reduce logistics costs, and enhance the competitiveness of Vietnamese goods.
"The current outsourcing rate for logistics is not high. The challenge is how to increase this rate. We propose strengthening the investment in large, modern logistics centers that meet the scale of enterprises, especially agricultural enterprises. Alongside this, accelerate digital transformation, optimize transportation processes and management costs, and track the flow of goods. Particularly, enhance the professional skills of the logistics workforce," emphasized Mr. Vo Tan Thanh.
Highlighting the crucial role of associations like VLA in connecting member businesses, Mr. Vo Tan Thanh suggested connecting VLA members to maximize available resources. He emphasized the need for stronger collaboration between logistics businesses and import-export enterprises, not only domestically but also internationally, actively participating in international organizations in the future.
Mr. Thomas Sim, Vice President of FIATA, praised VLA's development over the past 30 years. He stated that VLA's participation in international logistics activities has been significant and credible. He commended VLA for focusing on "Connecting Professional Logistics" through innovative research and application in trends such as green logistics, digital logistics, and logistics technology".
Considering the impact of technology on service operations, Mr. Thomas Sim suggested that VLA needs to adapt to maintain its role as an intermediary supporting its members. "Change to survive, change for sustainable development... If there is no change, it means we will lose the role of an organization representing its members," he shared.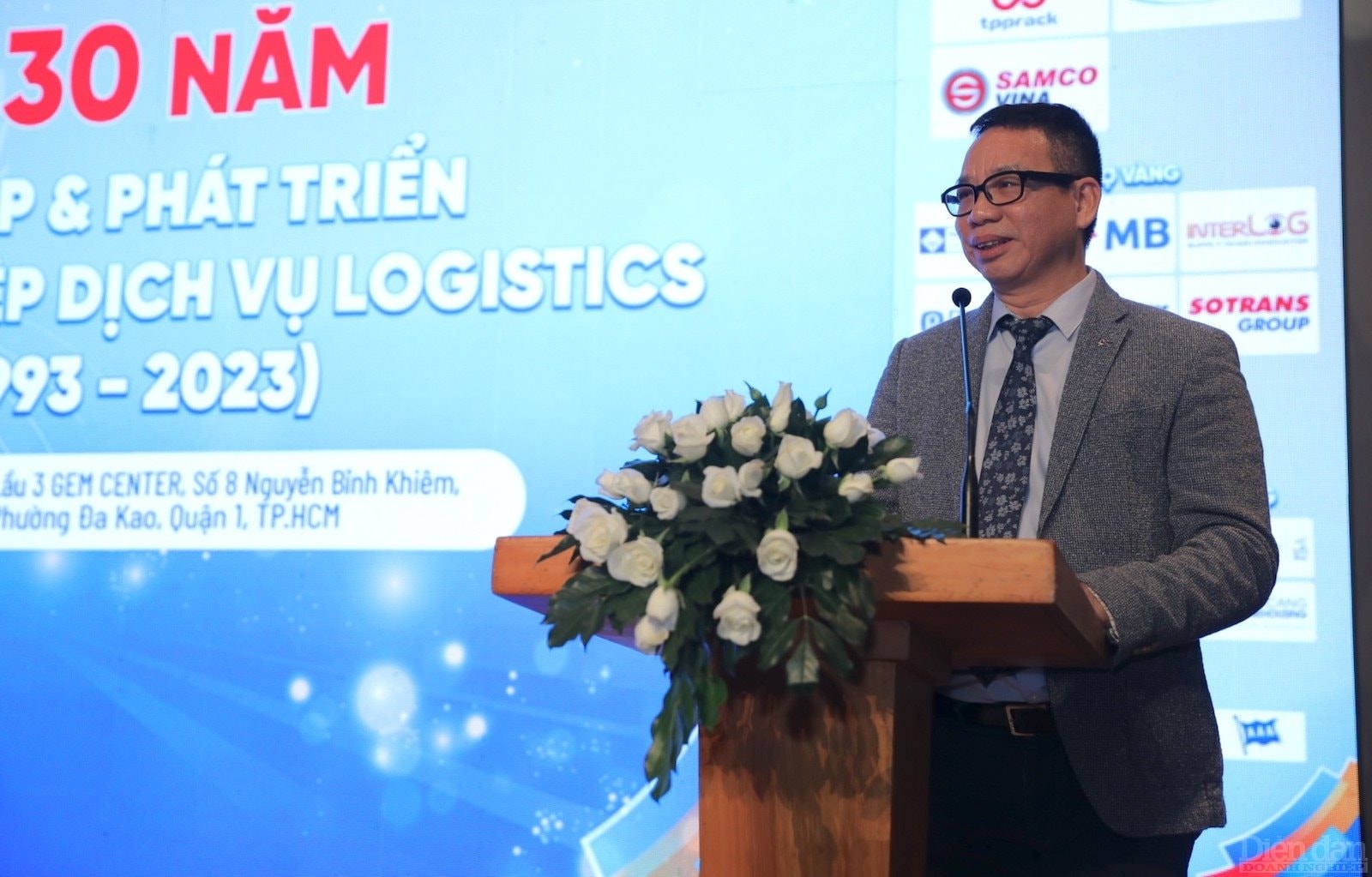 Mr. Dao Trong Khoa, VLA's Deputy Permanent Chairman, emphasized the association's continued efforts in training human resources and providing legal advice for its members. In response to contributions and suggestions, he outlined the association's future focus:
1. Build, strengthen, and develop the organization and membership, improve the quality of member activities, and foster stronger connections with the association.
2. Strive for annual growth of 70-100 new members, aiming for 1,000 members by 2025 when VLA hosts FWC 2025.
3. Leverage new-generation FTAs to expand the international logistics service market, focusing on ASEAN, the Middle East, Africa, and Latin America.
4. Intensify efforts in innovation, creativity, digital transformation, and high-efficiency projects for members.
5. Implement green logistics, smart logistics, and efficient logistics for agricultural product import-export, fostering the development of 4PL enterprises.
6. Ensure all members achieve successful results in digital transformation and effective business practices by 2030.
7. Coordinate with industry associations domestically and enhance VLA's role in AFFA and FIATA activities.
Additionally, Mr. Dao Trong Khoa emphasized the importance of successfully organizing the International Federation of Freight Forwarders Associations (FIATA) World Congress 2025 in Hanoi (FWC 2025). He called for the joint efforts of state management agencies and VLA member businesses to contribute to the event's success. Moreover, VLA will host its 9th Congress in 2024.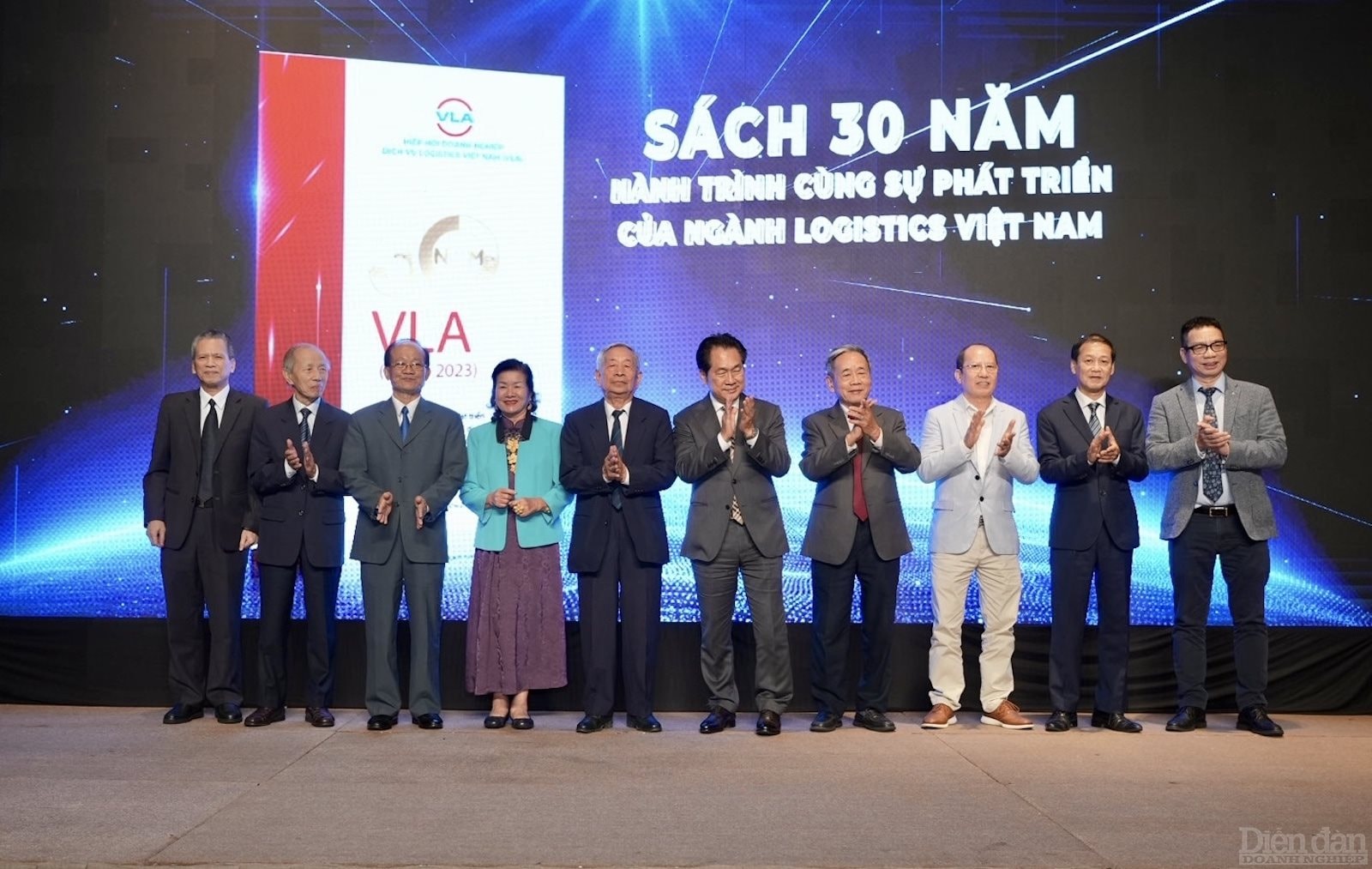 To commemorate its 30th anniversary, VLA has released a publication titled "30 Years of the VLA." This publication covers the history of VLA, sharing stories of challenges and successes since its inception, along with typical cases for businesses to learn from in their production and business processes.